SmartGuide launches AI-powered personalized recommendations for travelers
SmartGuide, the world's #1 digital audio guide platform, takes a significant stride forward with the launch of SmartGuide AI and AI-powered personalized recommendations. This new set of features effectively turns every traveler's phone into a personalized travel guide, significantly enhancing the tourism experience while promoting sustainable tourism.
SmartGuide's AI recommendations reflect personalized suggestions on the home screen!
What are SmartGuide's AI recommendations?
SmartGuide AI recommendations work by running all content through an advanced machine-learning model trained in-house by SmartGuide. This model is designed to understand and classify the vast array of content available on the platform, from details about popular tourist spots worldwide to engaging stories about hidden gems.
User interaction with this content helps build a unique interest profile for each individual traveler. Whether you're an art enthusiast, foodie, shopping addict, or party lover, SmartGuide AI gets to know your preferences. These profiles are then used to recommend places to visit, reflecting personalized suggestions on the home screen, within destinations, and in search results.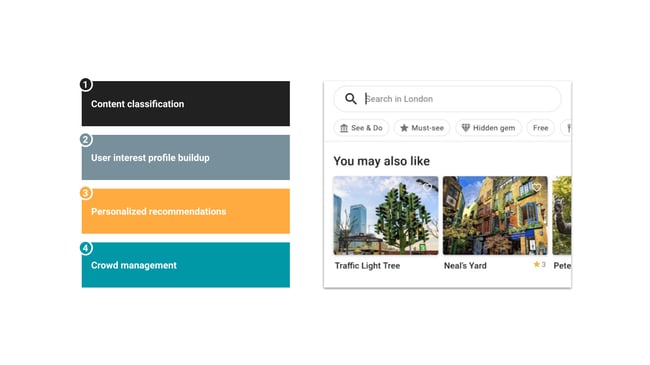 SmartGuide's AI recommendations
How do SmartGuide's AI recommendations work?
SmartGuide CMS runs all content from 5,000 guide authors and open sources through a machine-learning model which we trained using 20 Million POIs (points of interest) to understand what it is about and add hundreds of labels such as "Aqueduct", "Art" or "Archeology" or "Architecture".
As SmartGuide user starts interacting with content (reading texts, bookmarking places, etc.), we automatically build up their Interest profile with different weights of different labels. We don't use personas, but a unique profile for each individual.
Once we get at least a basic user interest profile, we start recommending places to visit (on the home screen, in the destination, and in the search) that match best their interest profile. Thus every traveler gets a unique personalized guide experience, quite like the personalized experience you get from Netflix or Spotify.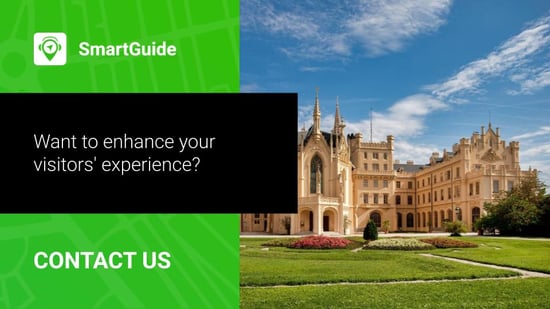 Seamless integration with SmartGuide CMS
SmartGuide's self-service content management system (CMS) has never been smarter after we plugged the SmartGuide AI in. The recommendation tags in SmartGuide CMS are now automatically populated using our proprietary machine-learning model. It classifies all content and labels different POIs with a relevant combination of tags.
The CMS is also equipped with many smart functions like AI-powered auto-translation and text-to-speech engine that allow tour content localization in one click, making content creation more intuitive, enjoyable, and scalable than ever.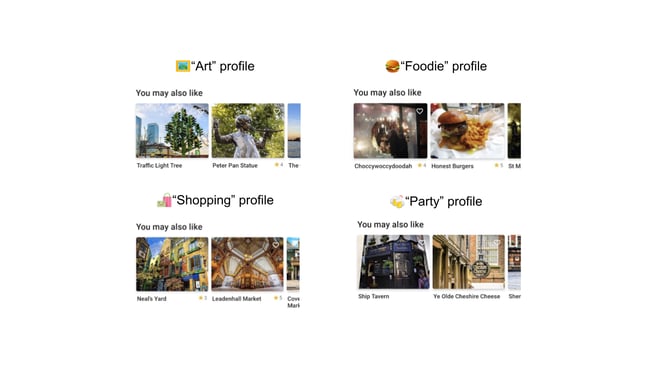 Whether you're an art enthusiast or a party lover, SmartGuide AI gets to know your preferences.
How AI recommendations manifest in the SmartGuide app
The SmartGuide app collects data points from user interactions with POIs, building a unique interest profile for each user. The profile powers the recommendation algorithm, suggesting POIs based on their similarity to the user's interests. This means every traveler can have a truly personalized travel experience, turning their journey into an adventure tailored to what they really love.
Do you like museums? SmartGuide will make sure to suggest the most interesting available museums for you in every destination. Are you a foodie? SmartGuide will recommend the best restaurants in town that you don't want to miss.
With AI recommendations, every traveler can make the most of their journey and discover places they wouldn't have otherwise found.
SmartGuide AI recommendations contribute to sustainable tourism
The implications of SmartGuide's AI recommendations extend beyond enhancing the user experience though. They play a critical role in promoting sustainable tourism. How?
Travelers tend to follow relevant recommendations based on their interests more than generic ones. Everyone is guided to visit different places which reduces overcrowding in hotspots and distributes tourism more evenly across the destination. This helps reduce overcrowding at specific sites, contributing to a more sustainable and enjoyable travel environment for everyone.
Moreover, SmartGuide also measures visitor engagement, providing detailed dashboards, heatmaps, and expert analytics reports about visitor demographics and behavioral patterns in a destination. This data-driven approach allows for strategic planning and decision-making, helping destinations attract and engage more travelers and prime their behavior.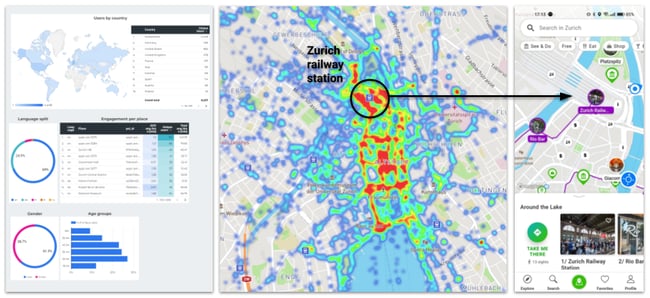 SmartGuide heatmap example of Zurich
Join the future of travel with SmartGuide's AI-Powered platform
In essence, SmartGuide is not just reshaping the way we explore new destinations; it is helping shape the future of sustainable tourism. With the launch of SmartGuide AI and AI-powered personalized recommendations, the platform continues to provide cost-effective, easy-to-use solutions that benefit both travelers and tourism entities worldwide.
Destination Management Organizations (DMOs), national tourist boards, regions, tourist attractions, and travel businesses can leverage the power of SmartGuide's digital travel guide solutions. Contact SmartGuide today to implement our innovative technology in your destination and join us in shaping the future of travel.
With SmartGuide, you're not just providing a digital guide to your visitors; you're enhancing their travel experience, promoting sustainable tourism, and gaining invaluable insights into visitor behavior. It's time to take your destination to the next level with SmartGuide.