SmartGuide leads Moldova's digital tourism marketing with digital travel guides for the entire country
Publishing content on a digital travel guide platform has the potential to reshape digital tourism marketing in the entire country. Moldova, a small country once dubbed as the least-visited European country, now captivates visitors with exceptional wines, delicious traditional Moldovan cuisine, and cherished traditions that they love sharing with others. It has embarked on a journey of digital transformation to modernize its tourism sector and attract businesses from around the globe. At the forefront of this innovation is SmartGuide, a digital guide platform with a tour guide app revolutionizing the way tourists experience Moldova's attractions and stunning landscapes.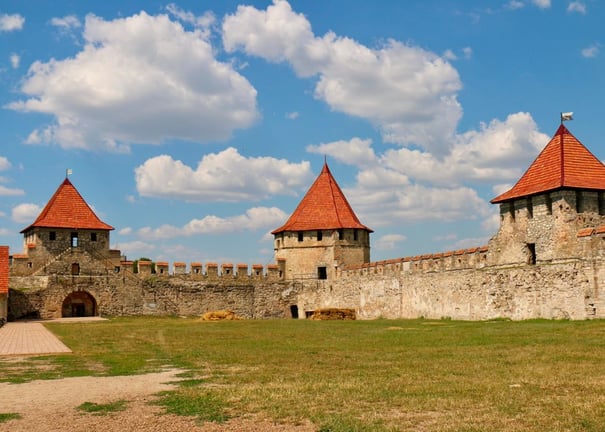 This blog post examines the implementation of SmartGuide in various regions and destinations within the Republic of Moldova. SmartGuide brought digital audio guides for different local destinations, including Moldova's capital, Chișinău. It currently offers a total of 16 digital guides available in English, Romanian, and Russian - and the list keeps growing.
The Digital Transformation of Moldova's Tourism Industry after the Pandemic
The Republic of Moldova is a landlocked country in Eastern Europe with a little more than 2.6 mil. inhabitants. Moldova at some point in the past unintentionally acquired the reputation of being one of Europe's less-explored destinations, which has now drastically changed. The country is now actively working, in collaboration with SmartGuide, to transform this perception.
The tourism industry in Moldova emerged as a crucial area for development, primarily due to visa liberalization, the signing of the Association Agreement between the European Union and the Republic of Moldova, and the dedicated efforts invested in promoting the country internationally. However, this progress was abruptly disrupted by the onset of the Covid-19 pandemic.
Moldova's destinations historically relied on traditional tourism marketing methods to promote its attractions and experiences, but the Republic of Moldova has started promoting itself in the online environment since 2014, introducing an official digital guide solution in 2023.
In 2021, the Invest Moldova Agency initiated the "Moldova: a place to find yourself" campaign, aiming to enable the country to align with emerging global trends, employ modern tools, redefine its position in the global market, and demonstrate its significance as an appealing tourist destination.
In a significant move, The Ministry of Culture of the Republic of Moldova and Invest Moldova Agency, funded by the United Nations Development Programme (UNDP), introduced SmartGuide to contribute to their mission. This endeavor focuses on implementing modern digital solutions, educational initiatives for travel industry partners, and leveraging SmartGuide's extensive experience in the global market. The involvement of the UNDP underscores the project's importance, as they have played a crucial role in enabling this transformative collaboration.
By utilizing the ready-made Smart Guide platform, tourist attractions, destinations, and travel agencies swiftly publish digital travel guides that exhibit superior quality and garner greater adoption, all within a short timeframe and with minimal financial investment. In addition to empowering independent tourists with comprehensive guidance, SmartGuide also equips municipalities with unparalleled big data analytics and comprehensive smart destination management solutions. Furthermore, it also offers the option to monetize guides, ensuring a self-financing and sustainable solution.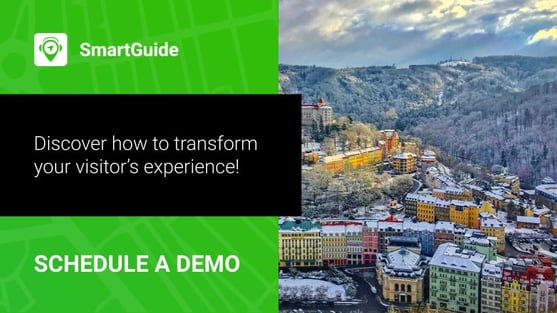 Transforming Moldova's tourism infrastructure: Overcoming challenges with SmartGuide's innovative solutions
Embracing the power of digital advancements, Moldova's tourism sector is set for a remarkable transformation. Leveraging SmartGuide's tour guide solutions, the country is overcoming the following challenges and unlocking new opportunities to showcase its rich cultural heritage and stunning landscapes to global travelers:
1. Uneven tourism infrastructure

sometimes makes it difficult for travelers to navigate certain parts of the country.

Solution: Smartguide developed regional self-guided tours that connect destinations and points of interest across a large area. With detailed, up-to-date maps (also available as an offline feature), this not only inspires tourists to explore an entire region but also makes navigation across the regional tourism sites easier for travelers, even in areas with limited infrastructure.
2. Moldova's low international profile has made it difficult to attract individual tourists from around the world.
Solution: By featuring Moldova on its platform, Smartguide has been able to contribute to raising the country's international profile. The app can showcase Moldova's unique destinations, attractions, and experiences, making it more appealing to tourists from around the world.
3. Limited resources for extensive marketing campaigns or massive infrastructure improvements.
Solution: Smartguide provides a cost-effective digital marketing solution for Moldova's tourism industry. By promoting local destinations, attractions, and businesses on the app, the country can reach a wider audience without the need for substantial investment in traditional marketing campaigns.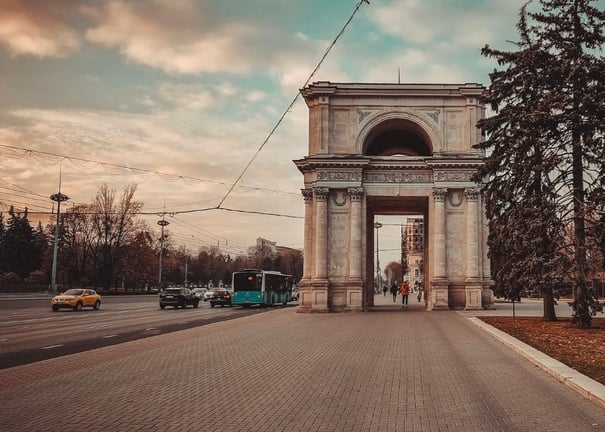 4. With Romanian and Russian being the most widely spoken languages, communication difficulties can arise for English-speaking tourists.
Solution: By offering content in 102 languages and having translation capabilities in place in the SmartGuide CMS, Moldova could prepare all its content in English on SmartGuide. Visitors who speak English can now access 24/7 information and immersive stories about Moldova's hidden gems.
5. More established tourist destinations in the region, such as Romania, have posed significant competition for Moldova.
Solution: Smartguide helps Moldova stand out from its competitors by highlighting its unique selling points and curating tailored itineraries that cater to different traveler interests. This personalization can encourage more people to choose Moldova as their travel destination.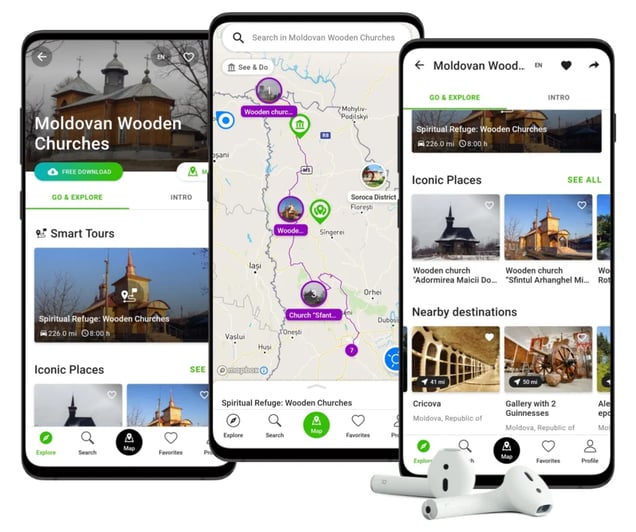 Crafting authentic Moldovan experiences on SmartGuide: A collaborative approach to content creation
The key to an authentic travel experience lies in the quality of our guide content. In order to create a truly immersive journey through Moldova's destinations and places of interest, we embarked on a collaborative effort with the Invest Moldova Agency and the Ministry of Culture of the Republic of Moldova, acting out the responsibilities of a national tourism board.
Our content creation process has involved a blend of expert input and grassroots contributions. SmartGuide content experts worked closely with Invest Moldova Agency and the Ministry of Culture of the Republic of Moldova to craft engaging and informative narratives about the country's top attractions. Simultaneously, we launched the nationwide Rise-up Moldova competition campaign, encouraging Moldovan destinations and travel enthusiasts to share their insights on hidden gems throughout the country.
This unique approach allowed us to capture the essence of Moldova from multiple perspectives, ensuring that the provided content is both accurate and captivating. As a result, SmartGuide now offers a diverse range of Moldovan experiences, available in English, Romanian, and Russian (although not all destinations are available in all three languages). And the list of Moldovan destinations still keeps growing.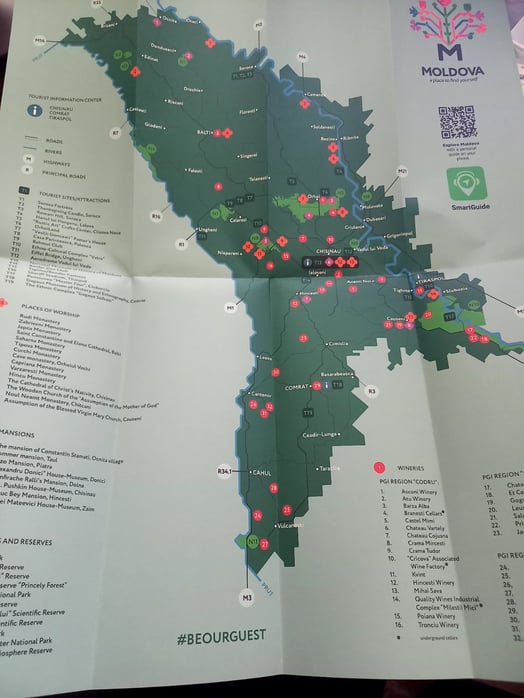 SmartGuide and strategic collaborations: Promoting Moldova's tourism with exclusive regional tours
One particularly notable achievement in this UNDP-financed project was the development of the Moldovan Wooden Churches tour, showcasing these architectural marvels to a global audience. This not only elevated the visibility of Moldova's attractions but also fostered sustainable tourism development in the region.
Moldovan Wooden Churches tour was the first regional tour published on SmartGuide, and the entire complex regional tours functionality was developed to accommodate it. Through our collaborative efforts, we have successfully brought the beauty and allure of Moldova's cultural heritage to life for travelers eager to explore this enchanting destination.
To further strengthen its impact, the Moldova guide was officially presented at ITB Berlin 2023, Europe's largest B2B tourism event, highlighting the successful partnership between SmartGuide, Moldova, and the UNDP. This demonstrates the power of innovative digital solutions, combined with strategic collaborations, in transforming the tourism landscape and promoting lesser-known destinations like Moldova.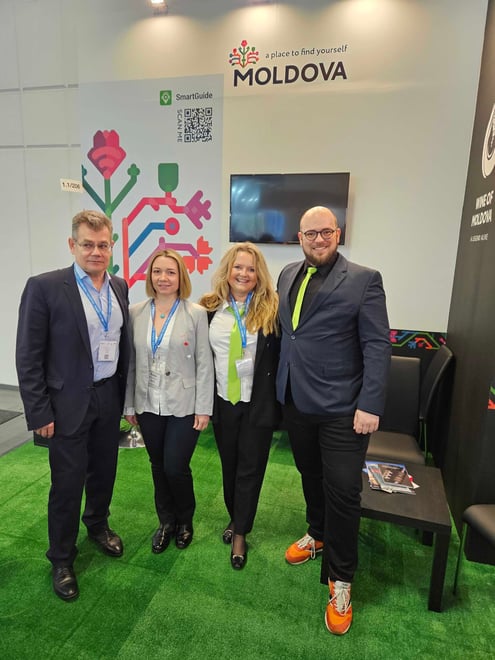 Data-driven destination management in Moldova with SmartGuide's big data reports
By including Moldovan destinations on a comprehensive, user-friendly, and engaging platform, SmartGuide can help attract a wider range of tourists, promote lesser-known attractions, and encourage longer stays in Moldova.

The app's focus on accessibility and inclusivity ensures that Moldova appeals to diverse global audiences, boosting its reputation as a must-visit destination.

Additionally, the data-driven insights gathered from SmartGuide can help the tourism board, DMOs, and local businesses to make informed decisions for marketing strategies and infrastructure improvements. The GPS heatmaps provided by SmartGuide give a unique insight into visitors' behavior, with a precision down to meters (unlike the BTS data from mobile operators).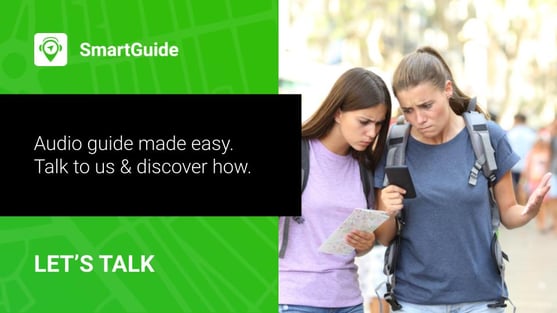 To ensure proper distribution, SmartGuide supported Moldova with marketing materials and QR codes that help get the SmartGuide app to visitors' phones. Thanks to the dedicated QR codes, it's possible to watch how many users come through different marketing channels. This helps Moldova in optimizing the return on investment of various marketing campaigns.

In essence, SmartGuide has the potential to drive sustainable growth within Moldova's tourism sector, ultimately contributing to the country's economic development and global recognition.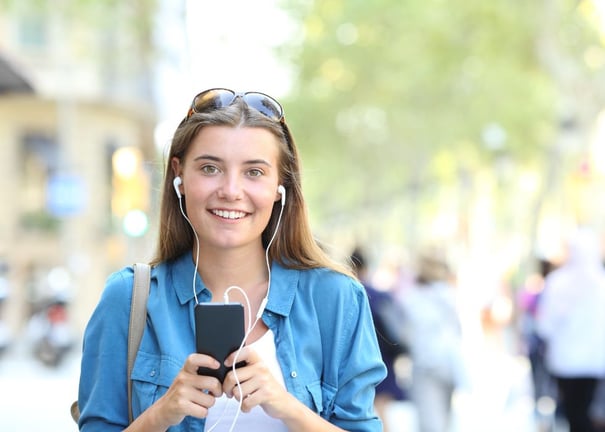 SmartGuide: The key to Moldova's wonder
SmartGuide has emerged as a game-changer in the realm of tourism in Moldova, providing Moldova's tourism board with unique resources for its tourism digitalization efforts. The platform's impact on the country's tourism sector and digital tourism marketing is profound. It enables visitors to delve deeper into Moldova's unique culture, history, and natural beauty through a digital travel guide on their phones and gain a much better experience when visiting Moldova.
Ready to revolutionize your digital tourism marketing and captivate travelers around the world? Partner with SmartGuide and publish engaging digital guides for your destination. Don't wait –join the future of travel with SmartGuide.

Contact us today to learn how to attract and engage more visitors.
*The project "SMART DESTINATION MANAGEMENT AND INNOVATIVE DIGITAL GUIDE INFRASTRUCTURE FOR SUSTAINABLE TOURISM DEVELOPMENT IN THE REPUBLIC OF MOLDOVA" is implemented by the United Nations Development Programme (UNDP) with the financial support of the Ministry of Foreign Affairs of the Czech Republic.