Switzerland is another country to digitize guides with SmartGuide audio tour solution
When you walk through the center of Venice, Paris or other popular destinations, you notice that there are a lot more tourists than we were used to over the past 18 months. With progressing vaccinations and easing restrictions they can now eat in restaurants, visit indoor sights and walk without face masks so it might seem that tourism is going back to normal. But then it strikes you that one thing is very different than 2 years ago. There are no tour groups, just couples, families, groups of friends. Many tourists learned to travel independently when there was no other option and now they are reluctant to return to inconvenient tour groups. Why would they, when it is so easy now to do travel bookings online and go on self-guided tours with SmartGuide and their audio guide system for travel destinations?

Turn your content into an immersive digital audio guide with SmartGuide!
Progressive national and regional tourism boards recognize this shift towards individual tourism and want to empower tourists with self guided tour solutions. That's why the Czech government supported the rollout of the SmartGuide digital audio guide system to 100 destinations across the country, the Singaporean National Heritage Board digitized 9 Heritage trails with, the Kyrgyz Ministry of Tourism digitized English audio guides for the entire country and Switzerland Tourism published self-guided walking tours on the fastest-growing digital audio guide platform - SmartGuide.
Even though most of the destination marketing is performed by destinations themselves, there are good reasons why regional and national tourism boards take advantage of the ready-made guide platform:
To make tourists visit the less-visited destinations.

Tourists don't want to install a single app for every place they visit. Yes, they might download a guide app for Prague, but few would download an app for the small town of Beroun. Yet, it is the goal of the tourism boards to inspire tourists to visit even the less frequented places to spread tourists more evenly across the regions. With Beroun recommended as one of the day trips from Prague, more visitors will get inspired to visit the bears in Beroun thanks to the interesting stories provided in an interface they already got used to.
To gather consistent analytics insights.

SmartGuide collects lots of interesting data about travelers - who they are, where they go, how much time they spent there. To stay GDPR compliant these data are always aggregated and provide interesting insights on various demographic groups that enable the tourism boards to understand tourists better based on their real behavior, which is much more precise than just based on stated preferences in surveys. SmartGuide tour guide solution aggregates data from all destinations conveniently in one place.
To save time and costs.

Destinations often used to develop their own visitor apps, but most of them failed miserably. Such development is expensive, time-consuming, often results in a poorly designed product by city officials, and fails to attract visitors who don't want to install a new app for each destination, especially if they can see it has 500 downloads. Why reinvent the wheel? SmartGuide has a powerful guide technology ready-made and keeps enhancing it every month as this is the core business. Destinations don't need any IT resources, they just focus on content which is their strength. And because scale leads to synergies, tourism boards can get attractive volume discounts that make the offering unbeatable
The latest national tourism board to join the SmartGuide audio guide platform is Switzerland Tourism. They prepared self-guided city walks in 24 Swiss cities to inspire tourists and locals alike to go for a healthy walk fulfilling their 10,000 steps a day target and discovering things about Switzerland they didn't know before. These digital audio guides were published in a printed brochure as well as in SmartGuide for tourists who don't want to carry a paper, who want to know instantly where they are on the map, who instead of reading, prefer to conveniently listen to the stories in audio. Switzerland Tourism supplied basic content in 4 languages and now local destinations are invited to join in and create more in-depth content themselves.
SmartGuide also has experience working with regional tourism boards that don't have any content themselves but create an umbrella project. The more proactive destinations in the region join and create their own guides easily in SmartGuide's proprietary Content Management System, perhaps with a bit of coaching and quality control provided by SmartGuide. SmartGuide copywriters then just take existing content from other destinations, turn it into a form suitable for self-guided and take care of the rest. In any case, the result is a professional, consistent, and engaging guide for the entire region made orders of magnitude faster and cheaper than allowing destinations to fail in making their own apps.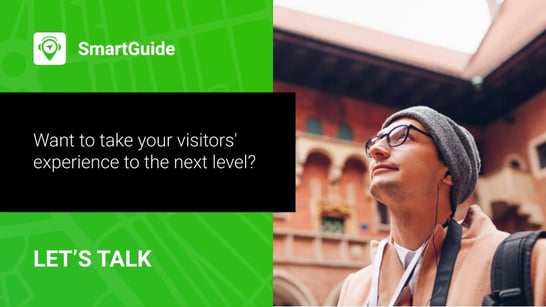 Our digital audio guide platform turns every phone into a personal audio guide. Contact us!