Trends that will shape travel in 2022
Big data, sustainability, screen tourism. Let's see what are the main travel trends of 2022 and how to stay on top of them.

1. Contactless tourism
Online bookings, digital check-ins, contactless payments, digital concierges, digital ticketing. Tourists expect convenience and efficiency, ideally having everything accessible in one click online. However, the pandemic has turned digital innovation, the Internet of Things (IoT) and contactless services into a necessity. Contactless tourism is actually key to restarting travel. After all, the very ticket to relatively free travel today is a COVID pass on our phones.

The contactless experience goes much deeper in enabling travel in 2022 and beyond though. In order to operate, transportation or lodging services had to introduce contactless innovations much sooner and faster than they would under normal circumstances.
As a result, the otherwise conservative lodging industry, especially hotels and resorts, is now driving change and is currently responsible for 20% of IoT-related patents and innovations.
2. Data-driven tourism
Contactless tourism and online services also generate a lot of data that is further used by the travel industry to optimize and personalize services. According to booking.com, 62% of travelers agree that technology helps them alleviate their travel anxiety.

This trend will only continue in 2022 and will play a crucial role also in smart and sustainable destination management. Big data will help shape policies and business plans of destinations of the future.

Seville is the first destination to work with big data this way. The Spanish city recently introduced a "Smart Tourism Office" focusing on managing and utilizing the big data available throughout the city, "putting people's quality of life at the center."
The data is sourced from official agencies and satisfaction indices of the most important attractions in the city. Tourists' housing or spending behavior is also measured, and additional sustainability indicators are about to be introduced. Seville will be watching satisfaction or demand in hotels or monthly spending in restaurants and excursions, among others. The city's objective is clear: to make Seville "a shared, intelligent, sustainable and responsible city".
Big data enables smart destination management in Prague
Here's another example of big data in action. The award-winning visitor heatmaps by SmartGuide, a digital audio guide and platform for travelers, helped Prague City Tourism to get tourists out of the overcrowded city center: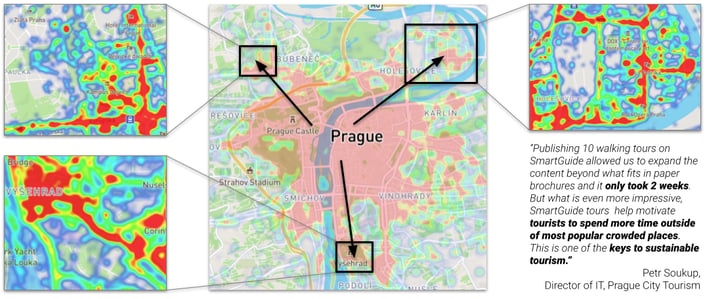 Thanks to in-depth statistics provided by SmartGuide, Prague City Tourism could discover and analyze individual preferences of different visitor segments and demographics. And the results were interesting indeed. Based on their movement and interactions, Czechs are totally avoiding the Charles bridge, and Americans seem to be afraid of public transport... Big data effectively allows Prague to better understand its visitors and make adjustments to improve their experience.
Check out the Prague tour guide.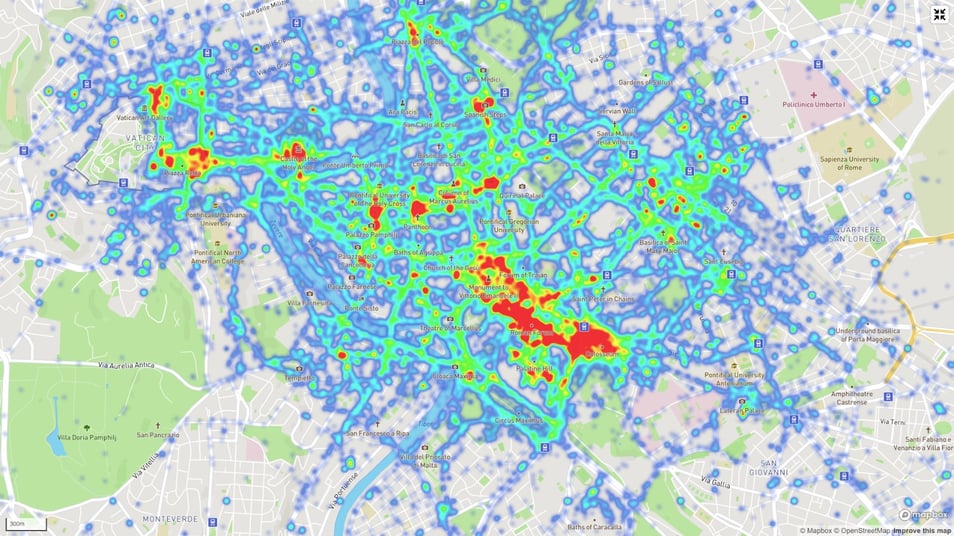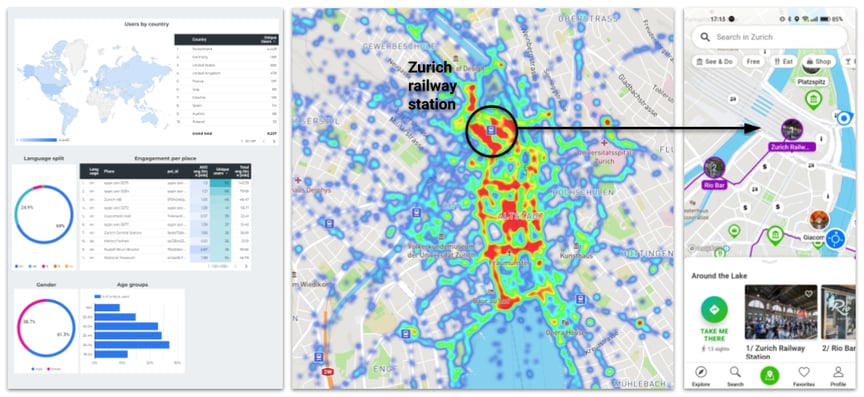 3. Wanderlust streaming and screen tourism
People's "viewing habits" and the content they consume online will inspire their travel decisions in 2022. Online window shopping and wanderlust streaming are extremely inviting thanks to a lot of attractive content available.

And the so-called "screen tourism" has become even more impactful during the pandemic. So much so that the UNWTO partnered with Netflix to research how the phenomenon affects tourist destinations. YouTube videos and streaming platforms can be used to efficiently promote culture, support the employment of local communities, and provide more opportunities for destinations in the future.

A good example of a positive screen tourism impact is the so-called Poldark effect. Already pre-pandemic, 13% of visitors to Cornwall county cited the BBC series Poldark as one of the key reasons for coming to the region. In 2020, the town of Porthgwarra in Cornwall welcomed a stunning 50% more tourists thanks to the success of the show – and people binge-watching it during the lockdown.
Dreaming about exciting destinations to explore and new travel adventures to experience has never been so easy to transform into real-life action thanks to technological advancements. The message is clear: quality digital content sells tourist destinations.
4. Sustainable travel
People will consider traveling more responsibly in 2022, aiming to reduce their carbon footprint through slow travel, rail, road trips, or even walking tours. Tourists will try to spend their holiday time in a more meaningful way for both themselves and the communities they explore while traveling.
Businesses are embracing this trend as well, letting travelers make more responsible choices. Google Flights, for example, added a check for carbon emission estimates to the flight search results.
The European Travel Commission (ETC) recently published several insights on sustainable tourism practices that reflect the current preferences of European tourists:
Almost 70% of tourists expect the travel industry itself to offer more eco-friendly and sustainable travel options
40% of consumers in the EU would stop flying to help reduce the impact of climate change
46% of European tourists consider waste management to be the most important environmental issue
The data clearly shows people are willing to make significant adjustments in their purchase habits. "Why should we fly, if we can take a train? Why take a cab if we can walk and explore?" Tourists do prefer consciousness over convenience and expect the travel industry to keep up and provide appropriate services that will improve the new experience.
5. Self-guided tours
Individual travel will continue to rise during 2022. The summer season 2021 in Switzerland might be a good indicator of that. According to the Federal Statistical Office in Switzerland, the trend of fewer groups and predominantly individual travelers continued in 2021.
As tourists quickly adopt digital tools and the idea of contactless tourism, they also expect 21st-century guides that will provide them with a rich multimedia experience online. Switzerland Tourism decided to stay on top of this trend and introduced a digital audio guide with GPS tracking by SmartGuide in 24 cities throughout the country.
SmartGuide turns individual travelers into explorers. It allows people to go on self-guided tours and reach their 10 000 steps while discovering a new place. Destinations and attractions can create more engaging content for their visitors' thanks to SmartGuide and even earn some extra revenue from it.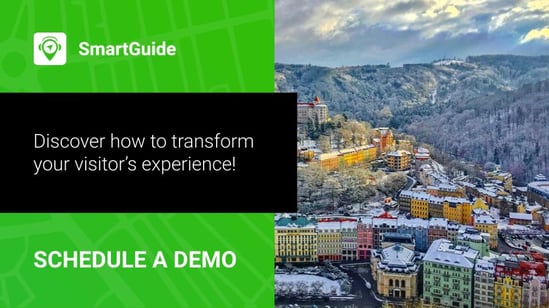 What is SmartGuide?
SmartGuide is a ready-built platform for you to publish your own engaging and certified Covid-safe guides. You can create a digital audio guide yourself for free in our Content Management System in less than 60 minutes or have our expert team prepare it turnkey for you. You can offer it publicly for free or sell it to your visitors for extra revenue.
Moreover, you'll never have to worry about maintenance.
An award-winning platform for self-guided travel
In 2021, SmartGuide scored two prestigious award victories for tech start-ups, at Tourism Innovation Summit 2021 in Seville, and Startup InnovationCamp 2021 by World Tourism Forum Lucerne, both amongst hundreds of global travel innovators.
Let's say yes to new adventures this year…
Season's greetings from Prague, one of the most beautiful cities in the world
Safe travels, Team SmartGuide
Maximize your visitors' experience - Contact us now and partner with SmartGuide!