Digital audio guide of Crystal Valley - How SmartGuide helped put the glass-making region in Northern Bohemia on the tourist map
The digital audio guides are transforming tourism, breathing new life into destinations full of rich history and cultural heritage. In the glass-making region of Crystal Valley in the Czech Republic, innovative technology has played an important role in establishing its identity and drawing visitors to explore its mountain villages.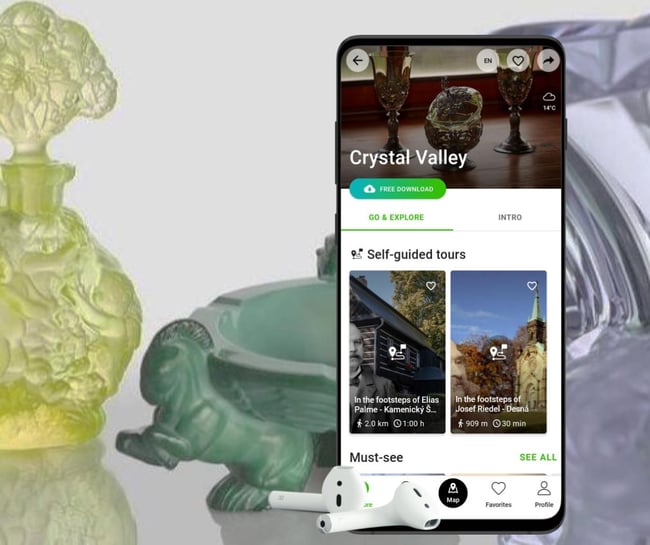 This case study outlines the successful implementation of SmartGuide in Crystal Valley, highlighting the collaboration with local destination management organizations (DMOs) and tour guides to create engaging narratives that illustrate the region's glass-making history. Furthermore, impactful stories of local celebrities have also contributed to this vibrant legacy, and these tales have been skillfully woven into the region's digital audio guides.
The article further examines the impact of SmartGuide's implementation on promoting the new regional tourism brand and creating awareness for Crystal Valley. By using the power of technology and introducing a digital audio guide of Crystal Valley, this region has managed to win the hearts of visitors, leading them on an unforgettable journey that not only entertains but also educates them. Let's explore how innovation and tradition have joined forces to reshape the future of tourism in Crystal Valley.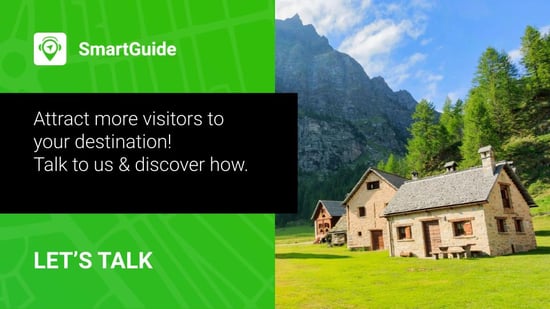 Discovering Crystal Valley with SmartGuide - A glass-making wonderland waiting to be explored
Crystal Valley has long been celebrated for its rich glass-making tradition. With a fascinating history dating back to the 18th century, this picturesque region has become a must-visit destination for tourists seeking a blend of industrial culture, craftsmanship, and natural beauty.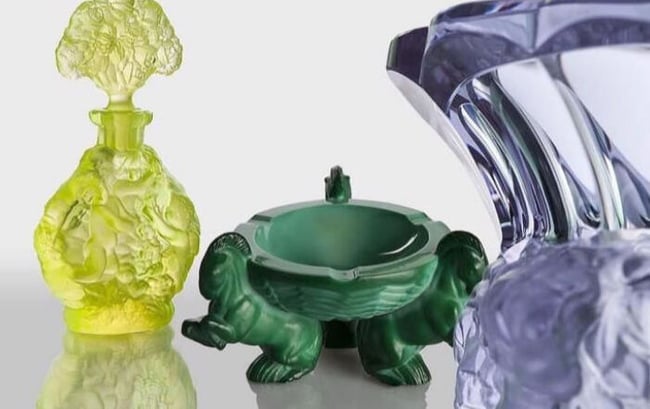 For over 300 years, the name "Crystal Valley" has been synonymous with the birthplace of Bohemian Crystal. This renowned region earned global acclaim for its glassmaking when a Czech artist won a prestigious prize at the 1953 Brussels Expo. To foster and advance the glass industry in the area, the Crystal Valley project was formed, uniting Czech glass companies in promotion and support.
North Bohemia is famed for its exquisite glassware products, with many popular items originating from the region. Some examples include:
Bohemia crystal: One of the Czech Republic's most sought-after products, produced in the Lusatian Mountains of North Bohemia since the 18th century.
Romer glass: Also known as "Römer" or "Roman glass," this type of glass was originally produced in Germany but gained popularity in North Bohemia.
Wine glasses: Home to numerous glassmakers who create high-quality wine glasses, North Bohemian producers offer unique and custom-made pieces
Underlining its historical industrial significance, Crystal Valley is home to numerous glass factories, workshops, and museums, where visitors can witness the art of glass-making firsthand and even participate in hands-on experiences. The region's connections to local celebrities further add to its charm, as stories of renowned artists and craftsmen are naturally included in its cultural fabric.
However, the re-branding and positioning of Crystal Valley as a tourist destination has not been without its challenges. Engaging visitors and showcasing the depth of the region's offerings required innovative thinking and strategic partnerships. Here, SmartGuide emerged as the perfect solution, providing an efficient platform to guide tourists through the wonders of Crystal Valley.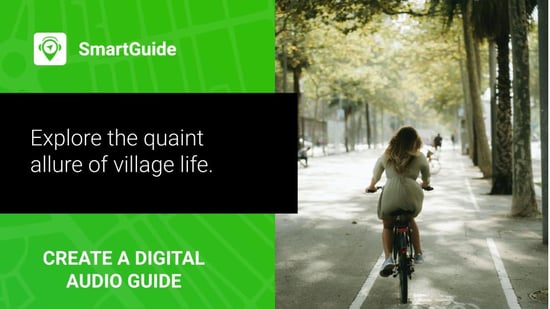 By partnering with the world's #1 digital audio guide platform, Crystal Valley has successfully breathed life into the region's history and exceptional attractions, solidifying its position as a regional tourism brand.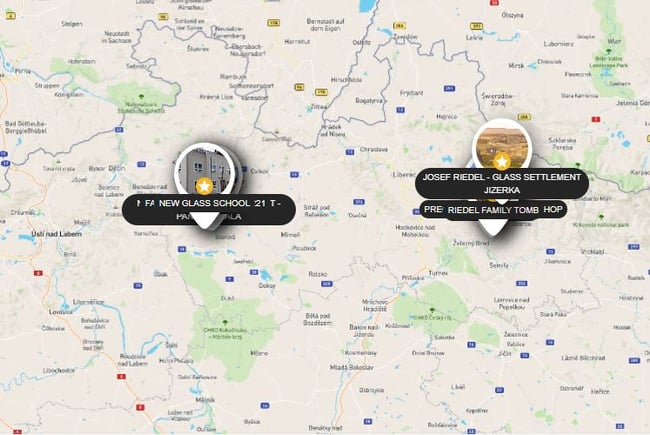 Overcoming tourism challenges in Crystal Valley with SmartGuide's innovative guiding solutions
Crystal Valley faced numerous challenges as it sought to establish itself as a premier tourist destination. SmartGuide helped reshape the tourism landscape in Northern Bohemia by addressing its pressing challenges through an innovative digital tour guide system:
1. There was limited awareness of the region among visitors.
Tourists were largely unfamiliar with Crystal Valley's existence as a tourism region, not to mention its rich history and unique offerings, making it difficult to attract visitors.
Solution: SmartGuide's personalized digital audio guides provided an engaging platform to educate tourists about the region's fascinating history, creating a deeper connection and driving interest in visiting Crystal Valley.
Additionally, SmartGuide provides customized content to cater to the varied interests of visitors, presenting unique narratives for different audiences. Also, SmartGuide users visiting nearby destinations are inspired by SmartGuide's suggestions to explore the region.
2. Traditional guided tours failed to capture visitors interest and fully convey the depth of the region's offerings.
Solution: SmartGuide significantly improved the visitor experience by offering engaging self-guided tours, enabling tourists to explore the region at their own pace while uncovering also lesser-known places and attractions. SmartGuide's tour guide app also included precise geolocation and interactive elements, keeping visitors engaged and entertained throughout their journey.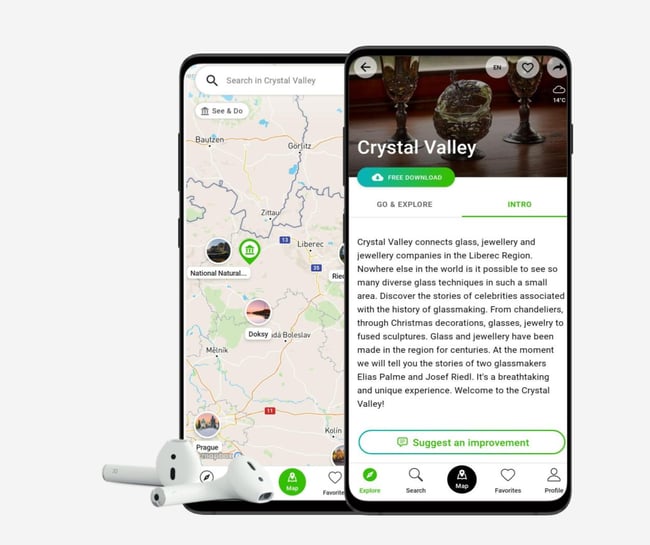 3. Crystal Valley faced challenges in effectively showcasing its distinct cultural heritage and setting itself apart from other glass-making regions.
Solution: By weaving enthralling stories and local celebrity narratives into the digital audio guides, SmartGuide helped showcase the region's unique identity and distinguish it from other destinations. This approach facilitated a more authentic and memorable visitor experience.
4. Visitors often encountered difficulties navigating the region, which hindered their ability to explore the area fully.
Solution: SmartGuide incorporated detailed (offline) maps and GPS navigation features into its app, ensuring visitors could easily explore Crystal Valley without losing or missing key attractions. The app also provided information on attractions' opening hours and other essential information, keeping tourists well-prepared throughout their visit.
5. Language barriers hindered visitors from fully understanding and appreciating the rich history and culture of the region.
Solution: SmartGuide provides multilingual support, allowing a diverse range of visitors to access the audio guides and enjoy the Crystal Valley experience. This inclusive approach broadened the region's appeal and helped attract a more diverse and global audience.
SmartGuide's innovative tour guide solutions have successfully helped address the challenges faced by Crystal Valley in destination marketing and firmly establish its identity as a unique regional brand. This partnership has elevated the visitor experience and set a new benchmark for tourism in glass-making regions worldwide.
Crystal Valley's digital revamp - The journey of implementing SmartGuide
As the SmartGuide platform aimed to integrate flawlessly with the region's attractions, museums, and landmarks, it faced specific project implementation phases with specific hurdles that needed to be overcome.
The team conducted thorough research on-site, customizing content and navigation for a tailored experience. The seamless integration of SmartGuide with Crystal Valley's tourism ecosystem was achieved through close collaboration with local stakeholders, including museum curators, tour guides, and regional authorities. This partnership allowed for authentic and engaging content to be created on SmartGuide.
The platform's interactive features brought the region's rich history to life and encouraged visitors to explore Crystal Valley in a more engaging way. Combined with vivid storytelling techniques, SmartGuide ensured that visitors could fully appreciate the area's cultural and industrial heritage and natural beauty.
The implementation of SmartGuide and the promotion of digital guides in Crystal Valley have unlocked new possibilities for visitors to explore and appreciate the wonders of Crystal Valley.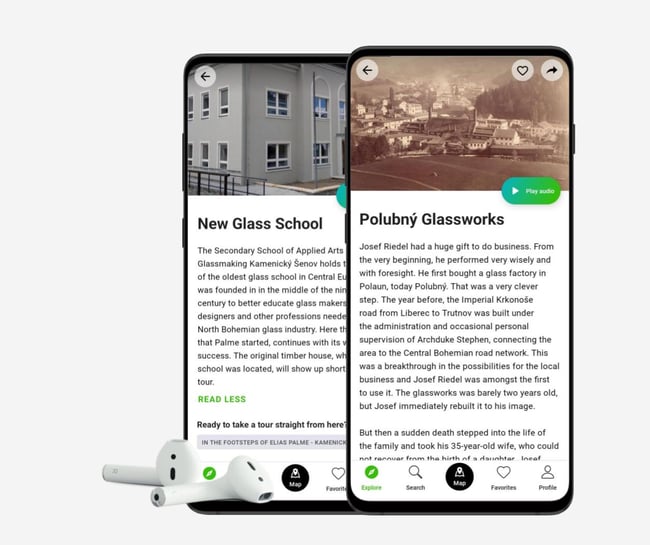 Boosting global appeal and visitor engagement of Crystal Valley with SmartGuide
SmartGuide's innovative approach turns smartphones into personal audio guides, enabling visitors to embark on self-guided tours and explore the area like never before. This immersive experience introduced visitors to the region's culture, art, architecture, and natural wonders, as well as the stories of local celebrities who contributed to Crystal Valley's tourism growth.
The result was an undeniable boost in the region's appeal, with visitors from around the world now being able to discover the beauty and allure of this glass-making haven. As word spread about Crystal Valley's unique offerings, it has become an established destination in Northern Bohemia.
The remarkable journey of Crystal Valley's transformation with SmartGuide serves as a shining example for other tourist attractions, travel businesses, tour operators, destination management organizations (DMOs), and national tourism boards seeking to enhance their tourism potential.
Conclusion
Digital tour guide solutions can play an important role in revitalizing regional tourism, building a regional brand, and helping discover secret local treasures for visitors.
The partnership between Crystal Valley and SmartGuide has enticed visitors to explore the region, discover the magic of its glass-making heritage, and uncover the wonders that await.
Do you want to elevate your destination's tourism potential too? Contact us and we'll explain how SmartGuide can take your visitors' experience to the next level.