Digital audio guides changing travel businesses and tourist attractions - The success story of Hotel Cube and SmartGuide
In the dynamic world of hospitality and tourism, digital audio guides like SmartGuide have visibly changed the industry, with Hotel Cube in Prague, Czech Republic, exemplifying their transformative potential. This case study demonstrates how technology can enhance visitor experiences, attract a wider audience, and position historic buildings as thriving tourist attractions.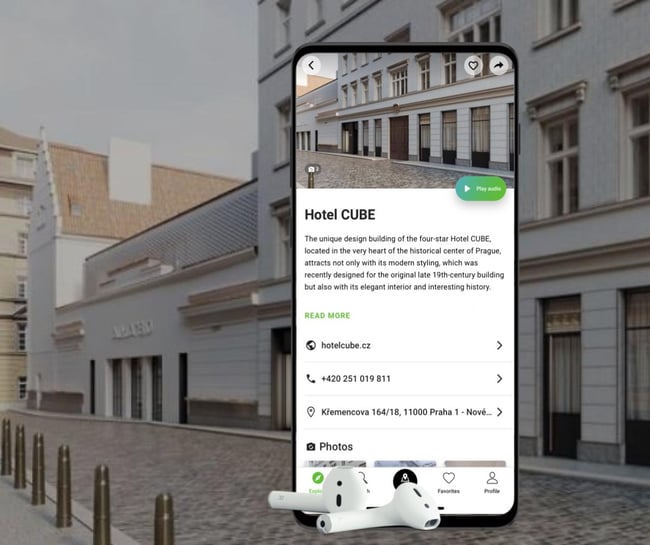 Let's explore how Hotel Cube leveraged SmartGuide to serve guests and entice visitors with its intriguing history and unique offerings. SmartGuide can serve as a digital concierge providing relevant information and itineraries for tourists, streamlining reception duties, and enabling efficient guest service. The platform was even utilized for promoting hotel services in this case.
Read on and learn about the undeniable impact of innovative digital tools such as SmartGuide in shaping the future of travel.
Discovering the enigmatic wonders of Hotel Cube with the assistance of SmartGuide
A modern marvel in Prague's historic center, Hotel Cube is a new 4-star hotel, recognized by the World Luxury Hotel Awards in 2022. It's situated in the heart of historic Prague - Křemencova Street, where the CUBE Hotel is located, is one of the oldest streets in Prague. Boasting a unique design and an array of features that cater to modern travelers, Hotel Cube has changed itself into a digital point of interest on the SmartGuide platform, offering guests an immersive self-guided tour experience.
Amidst the challenges posed by the pandemic, Hotel Cube witnessed a shift in visitor numbers and experience types. To adapt and thrive, this design hotel embraced technology and leveraged its historical significance to establish itself as a tourist attraction.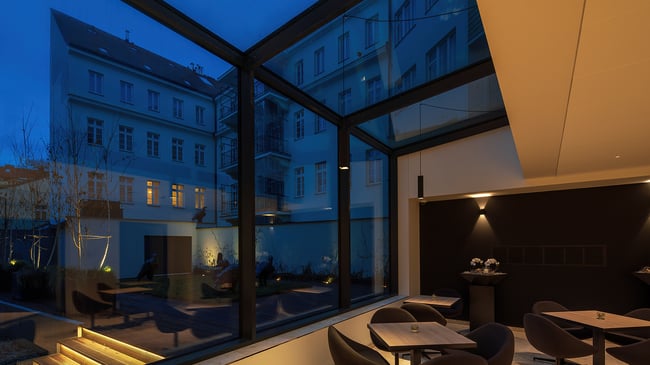 Hotel Cube's striking architecture is housed within a meticulously reconstructed historic building. The floor-to-ceiling windows and generous public zones combine to create a visually captivating experience for guests. Located just a short 10-15 minute stroll from iconic landmarks such as Charles Bridge and Old Town Square, Hotel Cube is perfectly positioned to attract curious explorers, while still maintaining a sense of tranquility.
Despite its prime location and stylish design, Hotel Cube faced challenges asserting itself as a tourist attraction. With the integration of SmartGuide's digital audio guide, however, the hotel was introduced as a landmark and point of interest for tourists exploring Prague. At the same time, the hotel transformed its guests' experiences by offering a wealth of information about its surroundings and unique features in SmartGuide's digital audio guide of Prague.
Hotel Cube has harnessed the potential of technology while staying true to its historical origins and exemplifies the profound impact of innovation in changing the hospitality industry.
How SmartGuide helped Hotel Cube to thrive in the era of digitization in tourism
While the hotel's facilities and prime location held immense potential, it faced several challenges in attracting and engaging visitors. The utilization of SmartGuide, a digital travel guide platform with a namesake guide app, significantly expanded the hotel's ability to engage guests at Hotel Cube and effectively addressed the following challenges:
1. In a crowded landscape of hotels and tourist attractions in Prague, Hotel Cube needed to distinguish itself from its competitors.
Solution: SmartGuide's rich multimedia content allows Hotel Cube to highlight itself as a point of interest for visitors exploring Prague. It can showcase its history, distinctive architecture, and design elements, creating a memorable experience for visitors. The platform provides visually appealing images, videos, and audio descriptions to captivate guests and display the hotel's unique identity.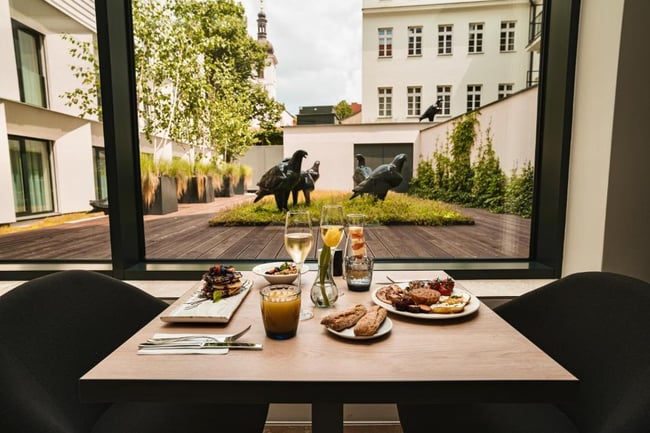 Source: https://www.booking.com/hotel/cz/cube-hlavni-mesto-praha.en-gb.html
2. Hotel Cube needed a way to engage guests beyond their stay, encouraging them to explore and appreciate the hotel's surroundings.
Solution: With SmartGuide's self-guided tours using GPS navigation and interactive features, guests can explore the surroundings of the hotel and visit the nearby points of interest. The app's user-friendly interface makes it easier for guests to explore at their own pace, enriching their overall experience.
3. The reception desk could face difficulties in managing guest inquiries and providing information about the hotel and its history at peak times due to limited staff capacity.
Solution: SmartGuide contains all the relevant information about the hotel's background. Moreover, its content can serve as a digital concierge service, offering information about points of interest in Prague, including local tips, and recommendations. This helped ease the burden on the reception desk and enabled efficient guest service by providing answers to common questions and itinerary requests.
4. Hotel Cube aimed to provide tailored experiences to cater to various guest preferences, including culinary enthusiasts and luxury-seeking visitors.
Solution: SmartGuide allows the creation of themed city tours using its intuitive content management system. This enabled Hotel Cube to cater to various guest preferences, providing it with the possibility to create self-guided tours with different themes (for example a tour featuring the hotel's restaurant and other culinary hotspots in Prague).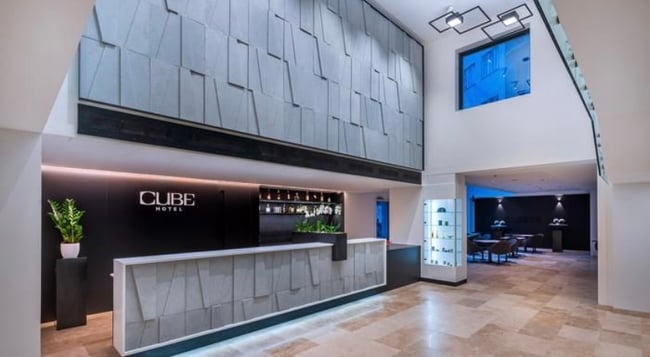 5. Hotel Cube needed a way to encourage satisfied guests to share their experiences with others, driving interest and bookings.
Solution: SmartGuide enables easy sharing of experiences through its in-app sharing feature, encouraging guests to spread the word about Hotel Cube's unique story.
The integration of SmartGuide has become an inspiring example for other hotel operators, travel businesses, but also destination management organizations (DMOs), tourist attractions, tour operators, and tourism boards. Through SmartGuide's digital audio guide platform, Hotel Cube has successfully transformed challenges into opportunities, inspiring others to follow suit and use new technology to enhance visitor experiences.
The seamless incorporation of this digital audio guide has metamorphosed Hotel Cube into a digital tourist attraction for tourists. Also, SmartGuide's multi-language support allowed guests from different linguistic backgrounds to engage with the hotel's offerings fully.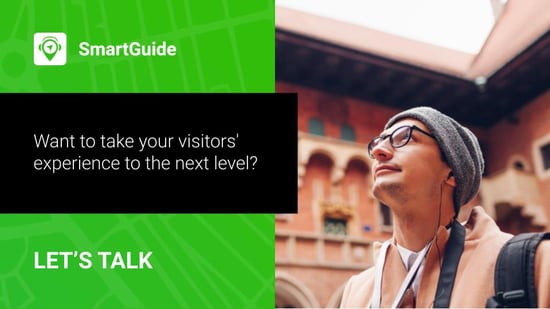 SmartGuide's adaptive features contributing to increased hotel guest satisfaction
The adoption of SmartGuide and other innovations at Hotel Cube has positively influenced visitor engagement and overall customer satisfaction.
A testament to this success is the positive reviews Hotel Cube in Prague has received from guests on popular travel sites. Increased visitor engagement has played a significant role in garnering these positive reviews, as guests feel more connected to the hotel and its offerings.
One of the factors contributing to increased visitor engagement is the way SmartGuide adapts to the preferences and interests of each guest, providing tailored suggestions for activities and attractions in Prague, around the hotel. This approach has encouraged guests to explore more areas and discover new experiences, leading to higher levels of satisfaction and potentially prolonged stays.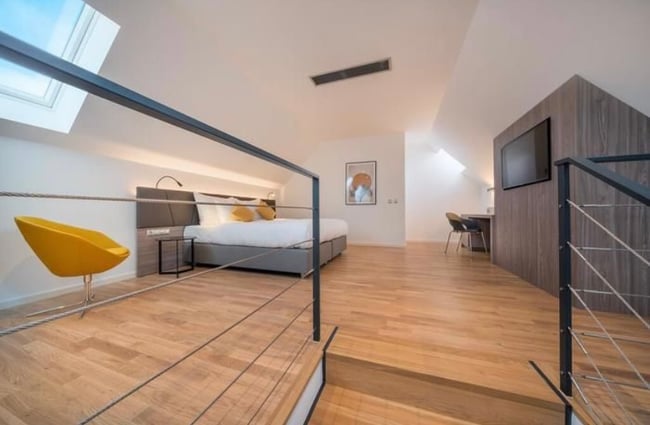 By embracing new technology, Hotel Cube has promoted its revitalized historic charm using the SmartGuide platform.
The success story of SmartGuide and Hotel Cube serves as an inspiration for other hoteliers, travel businesses, but also destination management organizations, tourist attractions, and tour operators.
Enhance your tourist attraction's or destination's appeal as well - Contact us and join the future of travel.