Exploring the Benefits of Digital Tour Guide Solutions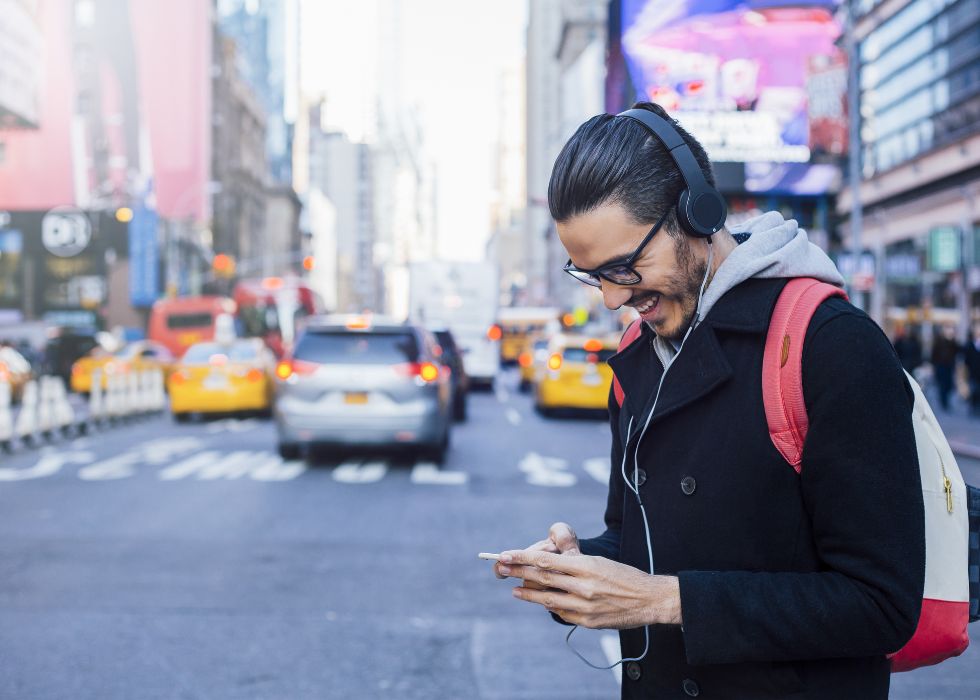 We all know what it's like to take a tour and be stuck with an outdated guidebook or the challenge of using unhygienic shared audio guide devices. In today's digital world, DMOs, tourist attractions, and tour operators are looking for ways to keep up with ever-changing trends and technologies. Fortunately, there is a simple way to revolutionize tour experiences for visitors: digital tour guide solutions.
By using a digital guide app, destinations and travel businesses can create engaging experiences tailored to each visitor and also get valuable insight into visitors' behavior based on big data. Read on to understand the benefits of incorporating digital tour guide solutions into your operations!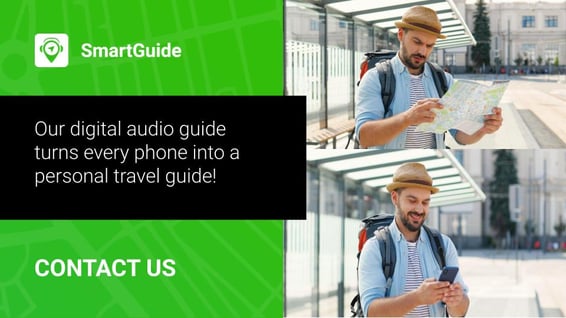 Benefits of digital tour guide solutions for DMOs, tourist attractions, and tour operators
For DMOs (Destination Management Organizations), tourist attractions, and tour operators digital tour guide solutions can be a true game-changer. Not only does a digital guide enhance the overall visitor experience, but it also helps DMOs and travel businesses save time and money in the long run.
The convenience and flexibility of digital guides mean tourists can access them anytime, anywhere with their smartphones or tablets. More importantly, digital tour guide solutions allow for personalized itineraries that cater to individual needs and preferences. With features such as precise GPS navigation, multilingual support, and interactive content, digital guide solutions can take the visitor experience to the next level. As a travel business or DMO, embracing digital tour guide solutions is a wise and innovative move to stay competitive in the ever-evolving tourism industry.
How do digital tour guide solutions increase visitor engagement?
With personalized information at travelers' fingertips, they can engage with their environment in a whole new way.
Digital guide solutions can offer multimedia content, interactive maps, and even augmented reality. Plus, they allow for flexibility in language selection and accessibility options for all.
Digital guides encourage curiosity and individual exploration in tourist destinations and at individual points of interest. It's like having your own personal tour guide in your pocket, ready to enhance your trip and make it one to remember.
For example, when digital tour guide solutions are used in a museum, visitors can interact with the exhibits more easily not only by listening to audio clips describing the artwork but also by watching videos showcasing specific pieces. Augmented reality (AR) tours provide an interactive experience with real-time 3D models of historical sites and landmarks. Visitors can explore these places in detail through holograms or 3D animations and gain a greater understanding of their meaning and importance.
Big data about visitors' behavior based on digital guide usage
By tracking how visitors are interacting with the digital guide, DMOs and travel businesses can gain insight into what content resonates with their audience and how best to tailor their tours for maximum engagement. This data can then be used to inform future marketing strategies, ensure users get the most out of their tour experience, and optimize overall visitor satisfaction.
Making business decisions based on outdated information is not an option in today's fast-paced world. By gaining big data insights about their visitors' behavior, DMOs, and travel businesses can better understand their visitors' preferences, and recognize opportunities and market trends. They can make informed decisions quickly and stay ahead of the competition.
Big data also allows DMOs and travel businesses to identify and respond to potential problems before they escalate, increasing visitor capacity and operations efficiency while reducing costs.
How digital tour guide solutions leverage AI capabilities
With the help of AI, a digital tour guide solution can provide an even more informative and personalized experience. By leveraging machine learning and natural language processing, digital tour guides can now tailor their recommendations based on personal preferences and previous interactions.
The contrast is clear: traditional tour guides can be expensive, inflexible, and limited in their knowledge. On the other hand, a digital tour guide is available 24/7, offers updates on local events and attractions, and provides a solution that adapts to your changing needs while promoting sustainable tourism practices.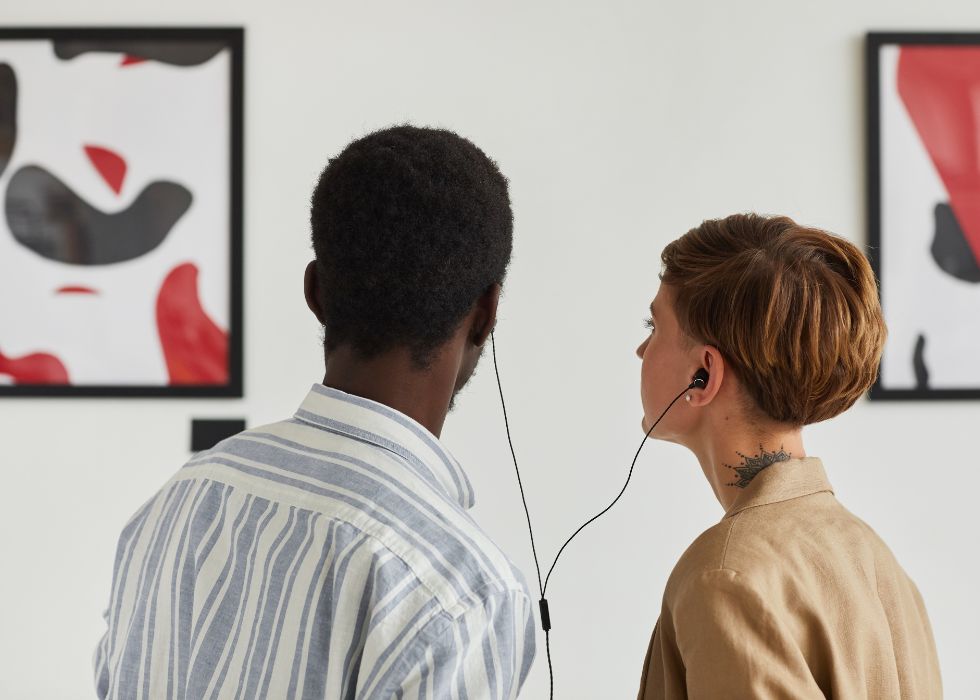 Get

SmartGuide

, t

he award-winning Digital Tour Guide Solutions, to attract and engage more visitors!
Best practices for implementing a digital tour guide solution
To ensure your visitors or customers receive the best possible experience, it's important to follow certain best practices when implementing a digital tour guide solution.
Choose the right platform: Select a proven, reliable platform that offers a comprehensive solution for creating and managing digital audio guides. Look for features such as:
- free content management system,
- guaranteed app maintenance and updates
- AI-powered content creation,
- easy-to-set GPS trigger zones and precise geolocation,
- multilingual support, or
- instant text-to-speach feature.

Engage local experts: Collaborate with knowledgeable locals, tour guides, and organizations to create authentic, engaging content that showcases the unique features of your destination. Embrace smart destination management and include the entire tourism ecosystem into your digital tour guide solution. (See how the city of Pilsen has become the smart tourism champion).

Include hidden gems: Attract more travelers by including lesser-known attractions, off-the-beaten-path locations, and unique experiences in your digital guide.

Optimize for user experience: Ensure your digital guide is easy to use, with features such as automatic audio playback based on geolocation, indoor optimization, and intuitive navigation.

Leverage data insights: Utilize the data collected by your digital tour guide solution to inform destination management decisions, improve visitor experiences, and measure the effectiveness of marketing efforts.

Ensure accessibility and inclusivity: Make your digital guide available on multiple platforms (iOS and Android) and in multiple languages to cater to a diverse audience.

Integrate with existing marketing materials: Incorporate QR codes and other promotional materials into your existing marketing efforts to drive user adoption and increase visibility for your digital guide.

Maximize cost-effectiveness: Take advantage of the lower operational costs and potential for grant funding connected to digitization in cooperation with established digital tour guide platforms.

Maintain and update content: Keep your digital guide up-to-date with the latest information on attractions, events, and changes in your destination to ensure continued relevance and value for users.
How to measure the success of your digital tour guide solution?
Number of visitors using the digital guide

: Visitors generate data. That is why a good digital guide solution should be able to produce data on visitors' behavior based on the guide's usage. And it's also the reason why digital guide solutions if in place, should be visibly promoted to users. A successful digital tour guide solution is one that is being actively used en masse.

Quality and relevance of content:

Is it engaging? Is it informative? Does it provide a valuable experience to your visitors? Are the multimedia elements you've included enhancing the overall experience, or are they distracting from the content? Have you covered a sufficient number and variety of points of interest and kept in mind

what attracts tourists

? The user reviews will tell. The quality of content can be measured by quantifying obtained reviews, either from inside the digital guide app or from app stores

Analyzing big data and

GPS heatmaps

:

Big

data collection and analysis can help DMOs, tourist attractions, and tour operators make better-informed decisions and improve the digital tour guide solution over time. Big data can reveal the demographics and preferences of visitors, and their movement, and inspire improvements, such as introducing new interesting content about local hidden gems to areas where visitors move but there are no tours or points of interest. Or, tailoring tours with the intent of guiding tourists to less visited places and supporting tourism in less visible areas.
By taking a holistic approach and measuring your solution against these criteria, you can gain valuable insights into its success and identify areas for improvement. Implementing a digital tour guide solution can seem overwhelming, but with the right tools and right practices, it can take as little as an hour to create your first digital guide.
Are you providing a comprehensive guide to the area, or are there gaps in your coverage?
With a digital audio guide platform such as SmartGuide, there's no need for bulky travel guides or long lines at tourist venues – visitors just pick up their phone and let SmartGuide take care of everything else!
Our international team of professionals curates up-to-date content for each destination, attraction, or point of interest, so travelers can immerse in the best stories when exploring the world.
Take your content for visitors to the next level - Talk to us!