SmartGuide supporting regional tourism with easy-to-make regional tours
Exciting news for regional tourism organizations! SmartGuide has revolutionized the audio guide industry yet again by becoming the first platform in the world to support regional tourism with multilayered guides and regional tours.

Thanks to the new content architecture, you can now inspire independent travelers to explore lesser-known spots on a self-driving adventure across the whole region. Tourists can learn more about the region on self-guided walking tours across its destinations and then indulge in museum exhibits all in one seamless user experience.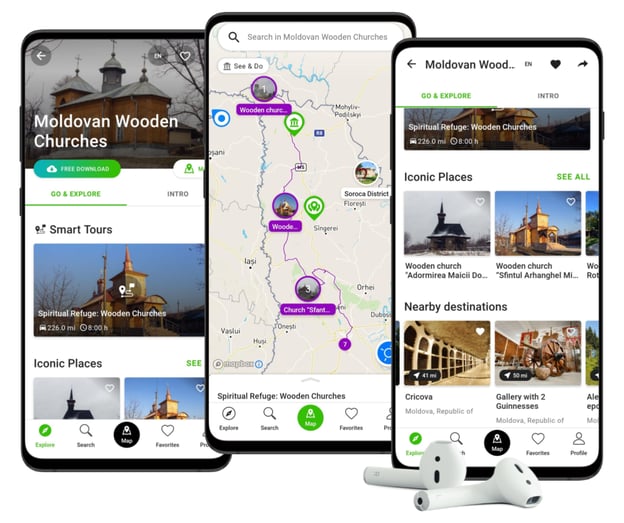 New destination types on the SmartGuide platform
To bring the best experience to travelers and support regional DMO and National Tourism Boards, SmartGuide created new destination types: Region, Municipality, and Attraction. Each of these unique destination types has features suitable for its specific visitors.

Why is this change so important? Before, every destination on SmartGuide (or on any other audio guide platform for that matter) was a standalone entity. This brought certain limitations, especially for regions that wanted to create tours across a larger area and connect several municipalities or attractions into a regional digital audio guide.

Exclusively on SmartGuide, it's now possible to create regional tours and layered audio guides across an entire region.
Audio guides for regions with GPS-based travel tips
Regions on SmartGuide include the list of towns, cities, villages, or attractions in the region that have an audio guide available on the platform. Regions are highlighted with a Region icon on the main destination page and also on the map.

Regions have all the functionality of the former Destinations on SmartGuide but now also feature their own municipalities, tours, attractions, or must-see places.

Regions on SmartGuide also have their own home screen, with a specific layout. The new user interface and features will help users better navigate through the guide's content. It also brings better promotion and cross-promotion opportunities to our B2B partners.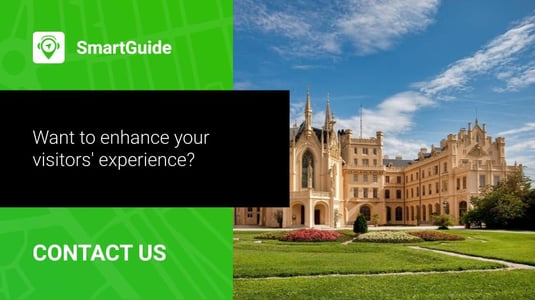 Game-changing audio guide features for geographical regions
With the new Regions on SmartGuide, geographical sets of cities, towns, or villages can have their own common home screen that joins them into a region. This home screen contains various sets of content carousels that SmartGuide offers.

There are specific carousels relevant to a region, such as:
Nearby (points of interest or destinations nearby the current geographical position of the user),
Self-guided tours
Top destinations (most interesting destinations in the Region with distance from the current position of the user),
Must-see (with iconic places to see in the Region),
Experiences (activities from local tour operators where you can directly book and buy tickets or admission),
and last but not least Tips for trips (where other regions or cities within day trip distance are offered).
Collection of places or destinations for an interest group
Even a set of churches, museums or any other topical or otherwise connected attractions now have the possibility to create its own home screen.

Wine cellar tours, country-wide outdoor exhibitions, routes across the most popular castles in a country, top beaches across an island… Those are but a few examples of the new variability of guides now supported on SmartGuide.
Inspiring travelers to visit off-the-beaten-path spots in regions
SmartGuide developed the regional functionality while creating the official digital audio guide of the entire country of Moldova* where many sights are not in traditional destinations, but rather scattered across the countryside. For example, the first regional tour on SmartGuide covers Moldovan wooden churches.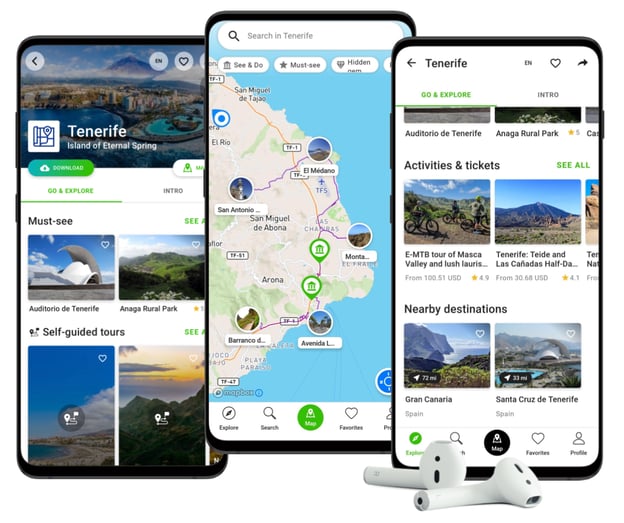 Conclusion
SmartGuide has revolutionized the audio guide industry by becoming the first platform to offer regional tours. With its redesigned content architecture, SmartGuide provides full support for creating digital regional tours, offering a unique and immersive experience for travelers seeking to explore specific regions.

This feature is especially beneficial for regional tourism organizations and businesses seeking to promote their local areas to visitors. By using SmartGuide's innovative technology, travelers can explore places in a more engaging and interactive way, while also learning about the history, culture, and attractions of the region.

Overall, SmartGuide's support for regional tours marks a significant milestone in the travel industry and is set to enhance the travel experience for both tourists and local businesses alike.
Create an audio guide of your region for the upcoming season
Publish a digital audio guide to your geographical region or a set of connected attractions on SmartGuide in a matter of hours. You can still manage to create your digital guide for the upcoming season 2023.

Help tourists explore the hidden gems of your region and spread their interest across different places and attractions.

*The project "SMART DESTINATION MANAGEMENT AND INNOVATIVE DIGITAL GUIDE INFRASTRUCTURE FOR SUSTAINABLE TOURISM DEVELOPMENT IN THE REPUBLIC OF MOLDOVA" is implemented by the United Nations Development Programme (UNDP) with the financial support of the Ministry of Foreign Affairs of the Czech Republic.