SmartGuide vs Cuseum: A comparison of digital audio guide solutions
Tourism businesses are constantly looking for innovative ways to enhance the visitor experience, engage visitors, and increase revenues. Museums and heritage sites investing in innovation and implementing new technologies for better visitor experience are becoming the standard. This is also the reason for the surge in the popularity of digital audio guides. SmartGuide and Cuseum are two examples of digital solutions that have been designed to help museums, exhibitions, and other tourist sites and destinations to better inform and engage visitors. In this post, we will compare and contrast SmartGuide and Cuseum, exploring their strengths, weaknesses, and benefits for both operators and visitors.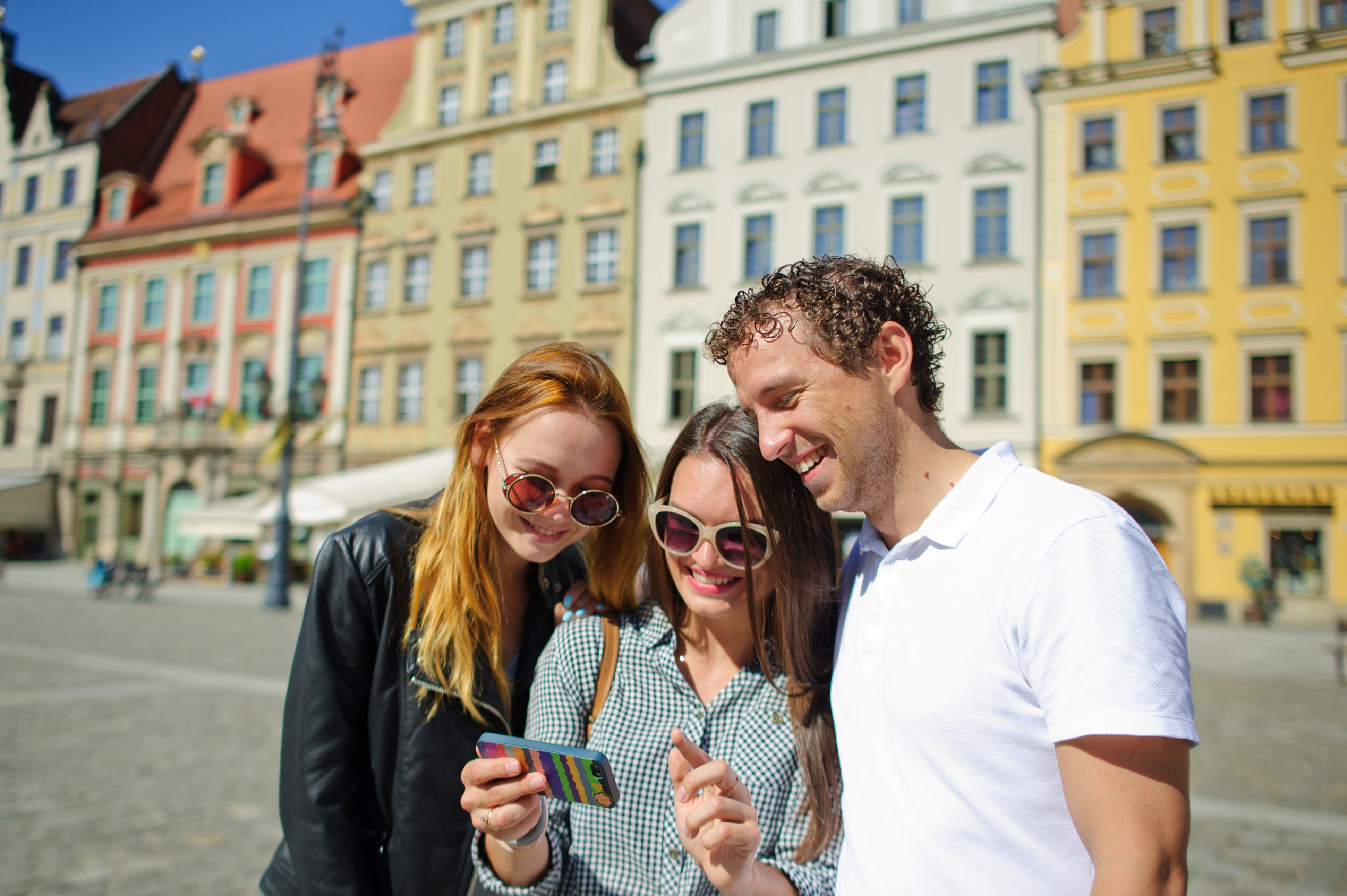 Who is who in this guiding solutions comparison
SmartGuide is a digital audio guide platform that turns every phone into a personal tour guide, thereby helping destination management organizations (DMOs), tourist attractions, tour operators, and travel businesses to attract and engage more visitors with its wide range of features.
Cuseum delivers a whole range of digital products that help museums, cultural institutions, and public attractions accelerate visitor and member engagement. Their software platform includes several white-label tools, such as mobile engagement solutions to help with personal tour guides. All these tools collectively aim to help museums and cultural institutions in their digital transformation efforts.
Comparing SmartGuide's digital audio guide with Cuseum's mobile engagement solutions seems logical. Both providers aim to help museums with enhancing visitor experiences and increasing visitor engagement, enabling self-guided tours, and creating and publishing their own audio guides for visitors.
By focusing solely on these features, we can more accurately assess the competitive advantages and limitations of SmartGuide and Cuseum in their respective domains.
SmartGuide: The Ultimate Digital Guide Platform
SmartGuide is a digital guide platform with a mobile app that offers self-guided tours in almost 1000 destinations, with content generally visible to the public (and mostly for free). SmartGuide currently covers 100.000+ tourist places worldwide.
Through SmartGuide's open self-service content management system (CMS), destinations, tourist attractions (including important landmarks such as museums, and cultural sites), or tour guides can easily publish their own digital audio guide in as little as an hour.
This allows them to provide a personalized visitor experience that drives engagement and can help businesses attract more visitors. It also helps tackle over-tourism and leads tourists independently outside the crowds.
With SmartGuide, content creators have been able to prepare both mainstream content for a general audience, and thematic tours tailored for specific niche audiences.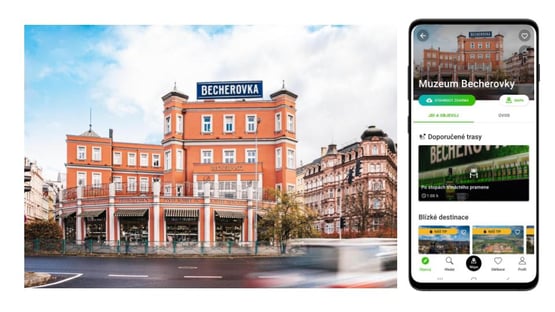 SmartGuide also offers big data dashboards and GPS heatmaps of visitors' behavior, and an expert data analysis service, which greatly aids destination management and marketing.
SmartGuide's noteworthy recognition
SmartGuide was recognized in more than 20 international industry-related competitions and gained numerous awards. In 2020, Singapore Tourism Board honored it with an Accelerator Award from hundreds of global startups and it was awarded a European Commission Seal of Excellence for its Covid-19 response. Based on the votes of experts and the general public, SmartGuide won the Hero of Tourism 2022 award, a special award from the Minister of Regional Development, and the Czech Tourism Director's Award in the Digitalization category.
Recently, the leading audio guide platform was awarded a €1 Million grant to build an Artificial Intelligence that will recommend travelers places to visit based on their interests and the support for Augmented Reality experiences. SmartGuide is also "recommended for funding" by the European Commission and was also approved as a preferred digital travel services provider within the DigiTour project funding initiative. The company was also invited as the best practice tourism innovator to present to the EU's tourism policymakers at the European Tourism Forum 2022 and European Tourism Day 2023.
SmartGuide's clients and partners include Switzerland Tourism, Prague City Tourism, Bratislava Tourism Board, Carlsbad, Singapore National Heritage Board, Harvard Business School, Dubai Tourism, Pilsner Urquell, RegioJet, Thames River Sightseeing, Deutsche Bundesbahn, and many more.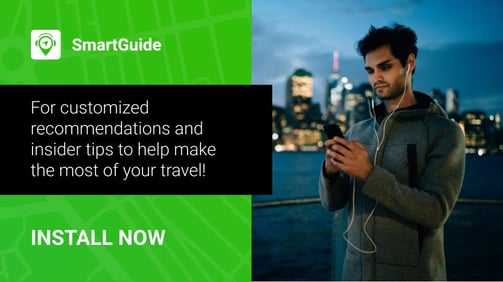 Pros:
Ready-built platform, with no additional maintenance cost for destinations and travel businesses. Travelers can access almost 1000 destinations within the SmartGuide app rather than having to install a separate app for each destination. This approach offers a more convenient and cost-effective option for businesses, while also providing a streamlined experience for visitors.
The free CMS includes an AI-powered text-to-speech feature and auto-translation for easy localization of content for multilingual audiences.
Big data dashboard and GPS heatmaps of visitors' behavior (a much more precise alternative to BTS data from mobile operators). The usage and GPS data from mobile devices provide accurate and detailed information.
Expert big data analysis and insights - by analyzing the data, SmartGuide can tell destinations and travel businesses about their visitors' demographics, such as age, gender, language, and country of origin, can identify acquisition channels, as well as which self-guided tours visitors engage with the most, and which places interest them. Thanks to precise GPS-based heatmaps, SmartGuide can analyze patterns of visitors' behavior in different time periods and for different audiences. Based on such information, travel businesses can also see which user acquisition channels and marketing initiatives work best and bring them more visitors, thereby positively impacting their revenue. There's 100% visibility at the partner's end thanks to this transparent data.
Destination marketing services and expert consultations.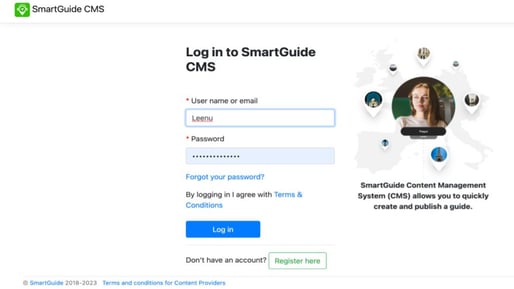 Cons:
A low number of integrations, although SmartGuide has been working on implementing more integration features. Currently, it supports e.g. the GetYourGuide ticket sales.
Less localized content is provided in non-English languages. While there are thousands of tours in multiple languages on SmartGuide, some destinations may lack certain language versions. This is due to the fact that SmartGuide is a platform, much like YouTube - it doesn't create the content, only oversees the content quality. The language of the audio guides' content for each destination is determined by the preference of content creators.
The app is not accessible on the Windows Phone Store.
Cuseum: Accelerating Engagement with Visitors
Cuseum's mobile engagement app platform delivers an array of tools for museums, such as digital membership cards, Mobile Engagement, guest ticket referrals, SMS messaging software, info panels, alumni cards, or annual passes. This is done with the intent to enhance the visitor experience and engagement in museums and cultural/educational institutions, both onsite and online. With an increasing number of institutions choosing to switch from traditional models to digital initiatives, the strategy has been working well. The digital membership card offered by Cuseum is its actual product designed to be branded and placed within an existing "core" app. It cannot be deleted from a mobile device, similar to the phone's clock or camera.
Cuseum's solutions work together to provide an innovative and seamless experience to visitors while also driving growth for the organization. Cuseum's white-label mobile app helps museums offer enhanced self-guided tours. This enables increased engagement and accessibility to all visitors.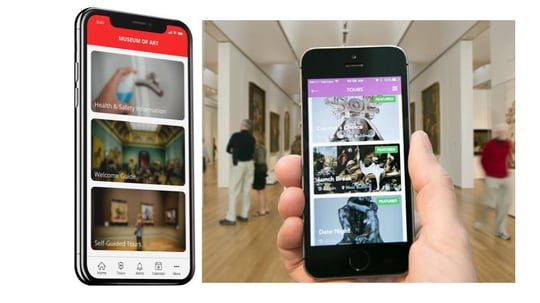 Image source: https://blooloop.com/museum/news/accesso-partner-cuseum/
Cuseum's Analytics Dashboard enables organizations to monitor their progress, analyze their results, and focus on effective strategies. Access to the Cuseum's dashboard is not free of cost though. Interested users will need to book a demo and gain paid access to these services first.
Cuseum's noteworthy recognition and plans
Cuseum has been building a strong reputation for excellence in the industry. Recently, the company won the Best Art & Culture App award at the 25th Annual Webby Awards. Additionally, the CEO and founder of Cuseum was featured as a 2020 Artnet Innovator, further highlighting the innovative spirit and forward-thinking mentality of the organization.
​​In just the past year, Cuseum rolled out new products and solutions such as Member Portals, AI-powered Text-to-Speech, AR @ Home, and more, helping hundreds of arts organizations achieve success in audience engagement. Cuseum's tools, such as Mobile Engagement, Digital Memberships, and Augmented Reality have long been enjoyed by Perez Art Museum Miami, the North Carolina Museum of Art, and Newfields.
Pros:
Cuseum's wayfinding features assist visitors in familiarizing themselves with their surroundings and spotlighting points of interest along the way.
The Digital Membership Cards feature.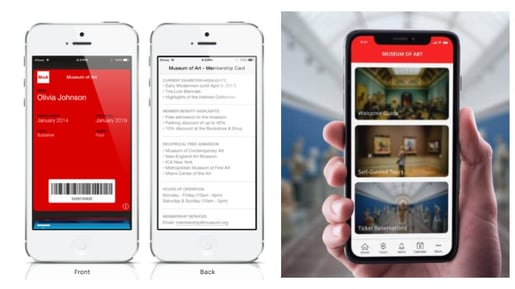 Image source: https://neonone.com/partners/cuseum/
Cons:
Some customers have reported that they feel they

lack visibility

into the Cuseum database at times (inability to see when members have been added or updated, or when cards have been generated and sent).
It takes a longer and more involved process to get Cuseum's solutions up and running compared to other solutions or platforms.
Cuseum may require a higher financial investment compared to alternative solutions on the market.
Features comparison
SmartGuide

Cuseum

CMS

Text-to-speech feature

✔

✔

Multimedia upload

✔

free
(videos, audio content, text information, and photos)

✔




(videos, audio content, text
information, and photos)

IT development
/Maintenance

Not required

Required

Self-service content creation

✔

Free access

✔

Paid access

Drag-and-drop editing of maps

✔

✔

GPS heatmaps*

✔

✖

Big data dashboards*

✔

Paid access

✔

Paid access

Ad-free Premium tours*

✔

✔

Regional guides

✔

✖





Location-based Messaging

✔

✔

APP

Compatibility

Apple Store & Google Play Store

Apple Store & Google Play Store

GPS POI triggering

✔

✔

Bluetooth beacons POI triggering

✔

✔

Interactive maps

✔

✔

Offline Maps & Navigation

✔

✔

UI Language preference

✔

✔

24x7 Tour guide access

✔

✔

AI-based recommendations

✔

✔

GPS tracking for site-specific stories

✔

✔

Parallel content for different audiences

✔

✔

PLATFORM

Contactless

✔

✔

Accessibility (Sight, hearing, mobility impaired)

✔

✔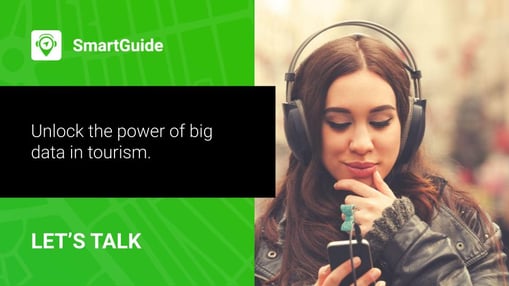 Conclusion
SmartGuide and Cuseum both provide solutions to enhance the visitor experience in museums. Cuseum provides robust white-label turn-key solutions for museums that also happen to include a digital guide app. SmartGuide, on the other hand, is a digital guide platform that provides ready-made technology for the creation of engaging self-guided tours and its app turns every phone into a personal guide. Unlike Cuseum, digital audio guides are SmartGuide's core business.
The two concepts offer different features that fit different business models. Consider your priorities, and budget, to decide which platform is best for you, and start creating a better experience for your visitors.

All-in-all, it's clear that digitalization is the future of the tourism industry, and museums and tourist attractions that embrace this trend will be in a better position to succeed.
Do you want to learn more about how to attract and engage more visitors with a digital guide solution?