Data-driven destination management with SmartGuide's Big data analysis service
Are you tired of making decisions for your destination management organization (DMO), tourism board, tourist attraction, or travel business based on guesswork or outdated data? Say goodbye to those frustrations and say hello to SmartGuide, the world's #1 digital audio guide platform that not only provides you with the best audio-guided tours but also offers an in-depth analysis of your visitors' behavior.
Get valuable insights and suggestions relevant to destination management, introduce data-driven decision-making, and make your destination marketing more efficient with SmartGuide's big data analysis services. Let's see how it works.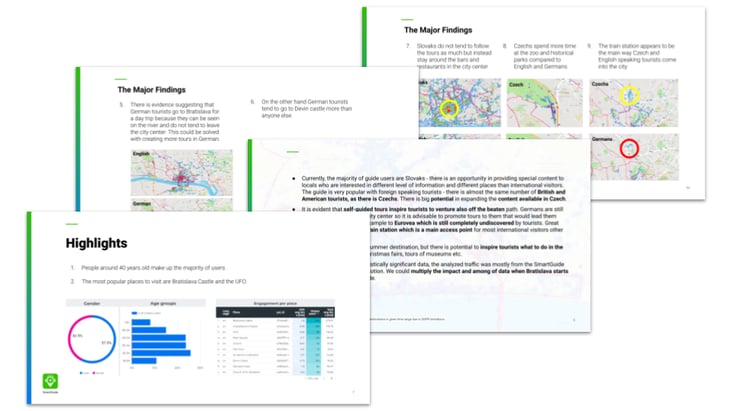 How SmartGuide's Big Data Analysis Works
SmartGuide's big data analysis service is unique on the global market, for several reasons. SmartGuide captures visitors' engagement and GPS data from their mobile devices and generates dedicated big-data dashboards and GPS heatmaps of visitors' behavior for each tourist destination.
Since SmartGuide captures visitor GPS data from mobile devices, it provides accurate and far more detailed information than the BTS data collected by mobile network operators.
By analyzing this data, SmartGuide can tell you about your visitors' demographics, such as age, gender, language, and country of origin, as well as which self-guided tours they engage with the most, and which places interest them. You can also see which user acquisition channels and marketing initiatives work best and bring the most visitors to use your digital audio guide on SmartGuide.
This way, SmartGuide can help you determine what content or promotions appeal most to your visitors, which campaigns work best, and which locations have yet unutilized tourism potential.
More digital guide app users = better strategic data about visitors
SmartGuide's data analysis experts highlight the significant findings and provide suggestions and concrete next steps regarding opportunities for improvement or enhancement. With these insights, you can make informed decisions on which content, tours, places of interest, or events to promote and work with, as well as what to avoid or eliminate from your communication and offerings.
The more visitors use SmartGuide in your destination or tourist attraction, the better data we can get. That's why it's crucial to promote the digital audio guide app to visitors (learn 9 tips on how to effectively promote a digital audio guide to visitors).
The sooner you start promoting the digital guide, the more detailed and reliable data you get. Once you get the table spinning, you will get highly accurate data about where and when visitors move, and what language they speak. This knowledge will enable you to optimize your communication, improve visitor flow, manage over-tourism, accommodate seasonality, and boost the local economy where necessary. You can also suggest better, targeted visitor experiences to various audiences with customized digital guide content.
If you promote your digital guide to visitors well, they will use it. And the returns on investment in implementing a digital audio guide and having the big data analysis provided by SmartGuide are visible already after the first months of use (weeks, if there are enough users).
Benefits of SmartGuide's Big Data Analysis
SmartGuide's big data analysis service provides several benefits that can help destinations, travel businesses, and tourism organizations optimize their marketing and communication strategies. Here are three key benefits that SmartGuide's big data analysis service brings to the table:
1) Data-Driven Decision Making
With the data-driven insights into your visitors' behavior from SmartGuide, your destination management and marketing decisions will be grounded in data and not guesswork. Test hypotheses, prove assumptions, and optimize your marketing strategies based on your visitors' real-world behavior. Thanks to data-driven decision-making, you can ensure that you put your resources behind initiatives that have the best chance of success and bring you the most engaged visitors.
2) Enhanced Visitor Experience
With SmartGuide's GPS heatmaps, you can track your visitors' movements, learn what attracts them most, and optimize their experience based on that. SmartGuide's big data insights can help you tailor the optimal itineraries for your visitors, helping them make the most of their trip while maximizing their satisfaction. This, in turn, leads to increased time spent in your destination, visitor loyalty, and most importantly, advocacy.
3) Improved ROI
By measuring marketing initiatives' success using SmartGuide's big data analysis, destination management organizations, tourism boards, tourist attractions, and travel businesses can identify opportunities for improvement or adjustments to their communication and offerings. This optimization leads to an increased return on investment (ROI) and more efficient utilization of resources.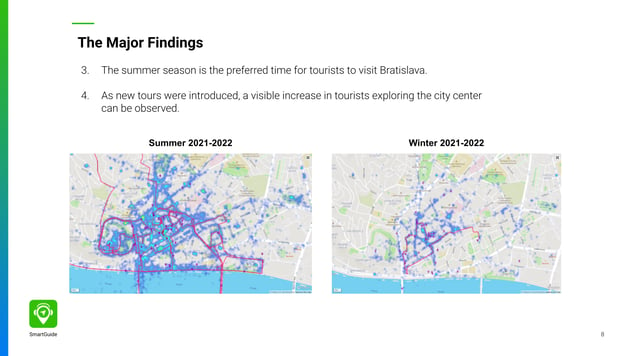 See a live example of SmartGuide's big data analysis in action, provided for Bratislava, the capital of Slovakia, EU. A similar analysis, also in a shorter form, can be provided for any destination with relevant traffic (at least 500 visitors/month).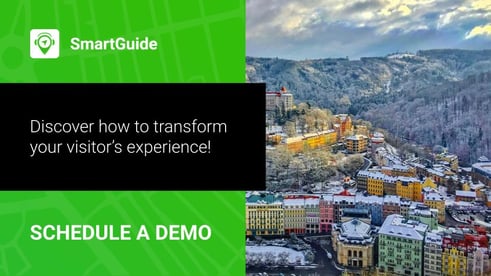 Conclusion
SmartGuide's big data analysis service is an innovative and efficient way for destination management organizations, tourism boards, tourist attractions, and travel businesses to make data-driven decisions, enhance visitor experiences, and improve their ROI.
As tourism rebounds post-Covid-19, destination and travel businesses need to adapt and find new ways to capture the attention of customers. The SmartGuide big data analysis service is an excellent investment, as it provides a unique and innovative way to optimize destination marketing efforts.
SmartGuide provides you with a competitive edge by offering expert insights and recommendations based on real-time big data about visitors' behavior.
If you want to learn more about how SmartGuide can optimize your destination management efforts, contact us today for more information.