SmartGuide allows guiding tourists better with AI and AR enhancements supported by €1 Million grant
What YouTube did for video, SmartGuide does for travel guides. The audio guide platform embodies the EU's new tourism strategy and as a result was awarded a €1 Million grant for further development and scaling. SmartGuide now pushes the boundaries of travel apps by building an Artificial Intelligence that will recommend travelers places to visit based on their interests and the support for Augmented Reality experiences.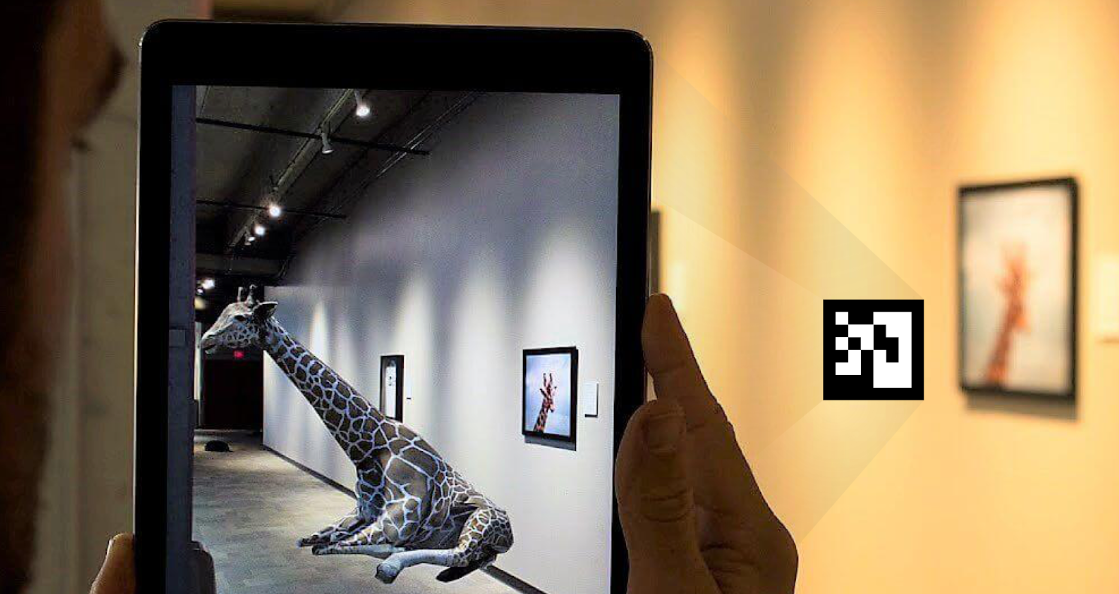 Digital audio guide platform that grew amid travel lockdowns
As travelers moved from paper guidebooks to mobile phones, tourist destinations started developing their own apps to guide travelers around. These destinations spent lots of public funding to reinvent the wheel every time they built an app, yet most of them completely failed.

Travelers are used to high-quality apps such as Airbnb, Google Maps, or Uber wherever they go, they don't want to install a different semi-functional guide app for every place they visit. SmartGuide solved both problems by providing tourism organizations with a ready-made platform and travelers with a single high-quality guide app for the whole world.

During the Covid-19 pandemic, SmartGuide grew into the leading platform for digital guides globally. Now it launched an ambitious Smart Restart project that will bring digital guides to the next level. Besides international scaling, the company is working on 3 major technology breakthroughs.
A content management system that shortens the time needed to produce a professional travel guide app from several months to a few hours.
AI-based recommendation engine to spread tourists across destinations with highly relevant personalized recommendations
Immersive AR experiences to boost adoption and engagement


Professional digital audio guide that can be published in a few hours
Only the largest tourist attractions and destinations could afford massive budgets and projects that took many months or even years to create a guide for a visitor's phone. And even when the guide was finally published, content updates were often so tough to make that the guide soon became outdated.

SmartGuide self-service Content Management System enables anyone who has quality travel content to publish it as easily as uploading a video on YouTube and even for free. The benefits of digital travel guides are thus available even to small destinations, tour operators, or traveler bloggers that would otherwise not have the budget to develop their own solution.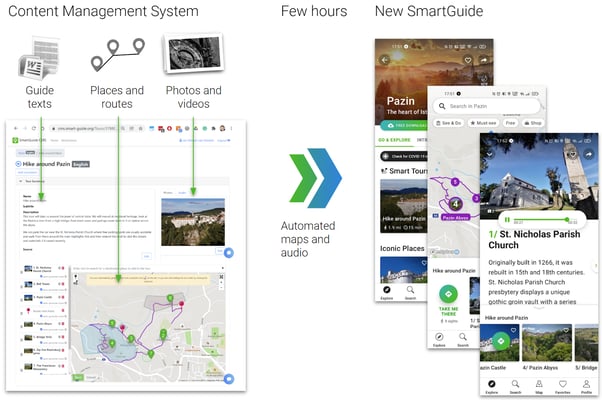 To make content creation as fast as possible, SmartGuide CMS introduces many smart functions:
Tour route is generated automatically between places of interest so you don't have to manually edit it on the map.
Built-in AI-based translation engine from DeepL speeds up translations into other languages.
Smart AI-based Text-to-speech engine records natural-sounding audio as you type texts.
Making a guide has never been so easy and enjoyable.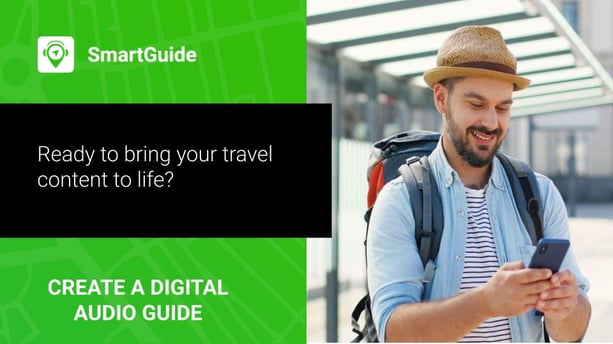 Personalized travel recommendations based on AI as the new normal
The problem with traditional guidebooks, web pages, or apps is that they are static and give the same travel advice to everyone. This leads to overcrowding at the top places.

SmartGuide takes inspiration from Spotify and Netflix learn your preferences over time and recommend you the songs and movies that you are most likely to enjoy.

We are building neural networks that will understand what some travel content is about. Then, we will check how users interact with the application, which content they consume, and what they like. This will build a good understanding of individual interests, which we will use to recommend the most relevant places for each traveler.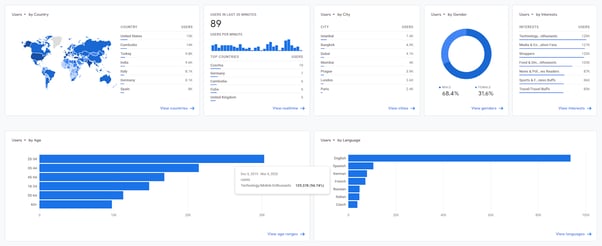 A personalized guide will be more engaging for the traveler. At the same time, providing different recommendations for every user will inspire tourists to spread across the destination thus reducing the problems associated with overcrowding.

Thanks to AI content categorization, this functionality will become available in 2023 for all the guides without any additional work from guide authors.
New immersive travel experiences with Augmented Reality
The very purpose of guides is to add some more interesting information to the places you visit. SmartGuide already uses audio and videos that are more engaging than texts from traditional guides.

Most smartphones today support Augmented Reality which enables even more immersive experiences with a virtual overlay connected to the physical environment.

So far though, the development of AR guides has been very expensive and their usage rather limited due to high battery consumption. Most travelers don't carry an extra battery pack like Pokemon Go hunters.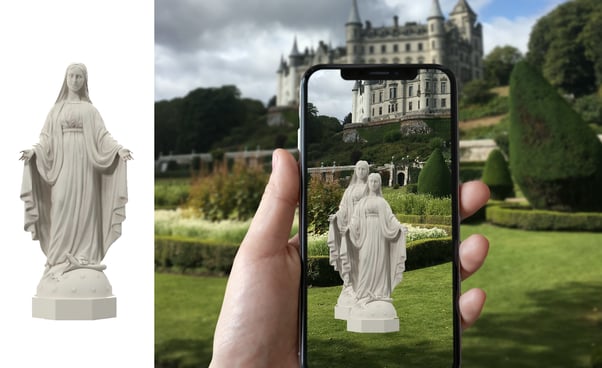 SmartGuide will combine its existing guides with an occasional AR experience to spice it up and increase engagement.

It will be possible to view historical photographs, videos, and 3D models displayed at given GPS coordinates or upon scanning a visual marker, such as a QR code.
Tourists will thus be able to admire buildings and places that have been demolished or rebuilt as if they were there in their original beauty. This innovative feature will offer an unparalleled opportunity for tourists to step back in time and experience the grandeur of iconic structures in their prime. Tourists will also be able to reanimate a stuffed animal in a museum or a historical artifact in a museum…
Since these immersive AR experiences will only take a few minutes during a tour, they won't have a significant impact on battery consumption.
Strong support from the European Union for the world's #1 digital guide platform
SmartGuide already now saves travel organizations lots of money. It provides them with a ready-made guiding technology with the highest quality at a fraction of a custom development cost. SmartGuide also helps destinations to inspire travelers to visit off-the-beaten-path places, thus providing more authentic experiences and reducing the overcrowding at most popular spots.
This EU-funded project will further strengthen the positive impact SmartGuide has on travel.

The SmartGuide platform is completely aligned with the EU tourism strategy which promotes digitization, sustainability, and the use of data for decision-making. The proposal to Smart Restart tourism after the Covid-19 pandemic received a superb evaluation from an international team of experts and was awarded a Seal of Excellence from the European Commission.

As a result, the Technology Agency of the Czech Republic under the Programme for Support of Applied Research and Innovation SIGMA decided to co-finance the project with €1 Million grant funding.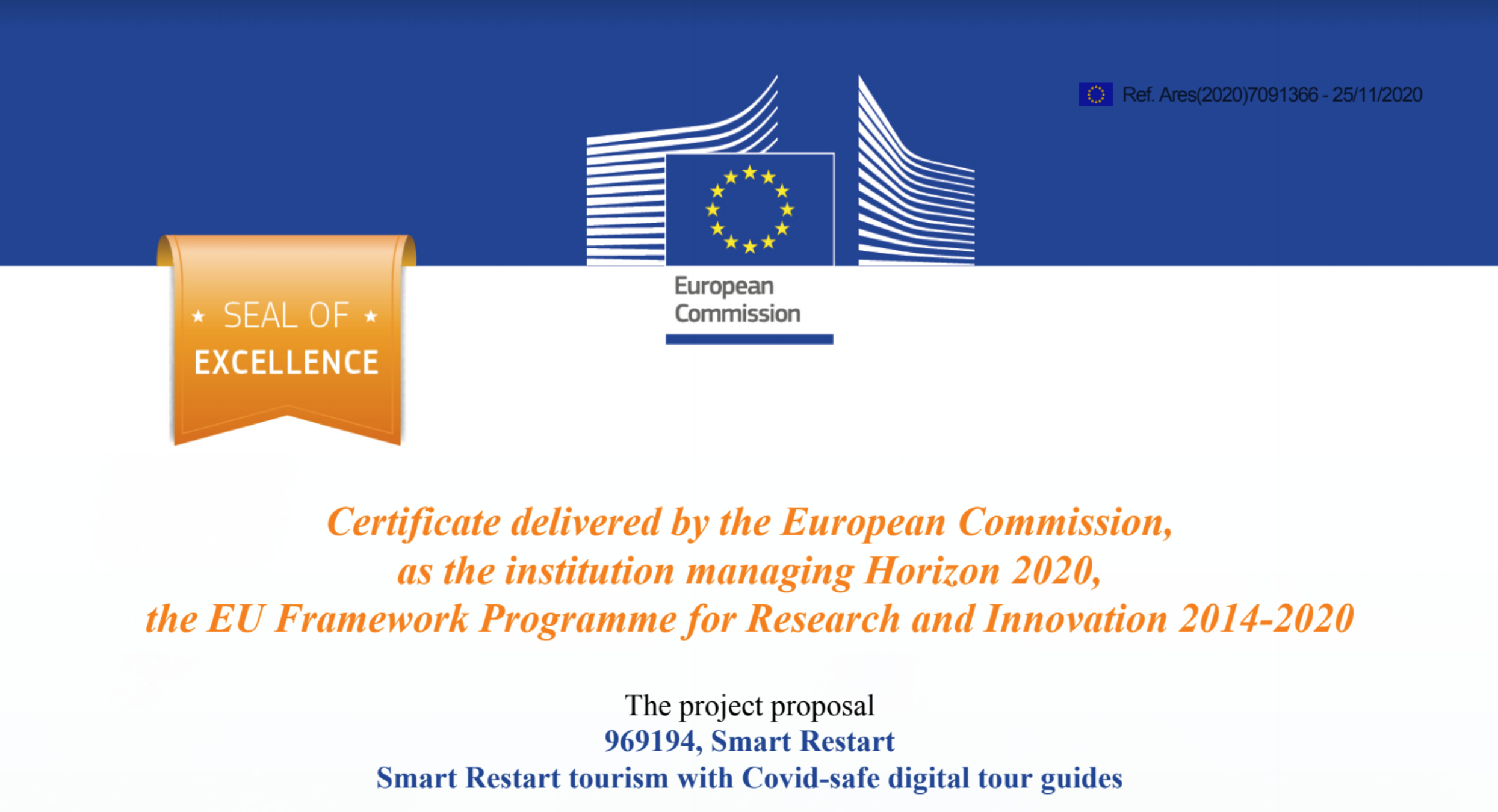 SmartGuide is "recommended for funding" by the European Commission and besides this project, SmartGuide was also approved as a preferred digital travel services provider within the DigiTour project funding initiative.

The company was also invited as a best practice tourism innovator to present to EU's tourism policymakers at the European Tourism Forum 2022 and European Tourism Day 2023.

Why invest in developing your own travel app when you can get the most advanced technology ready off the shelf from SmartGuide? Perhaps leveraging this vetted technology could also help secure grant financing for your next project to develop the most engaging content for travelers.

Stay tuned not to miss the newest AR and AI updates in SmartGuide.
Want to learn more about SmartGuide and how it can help you?